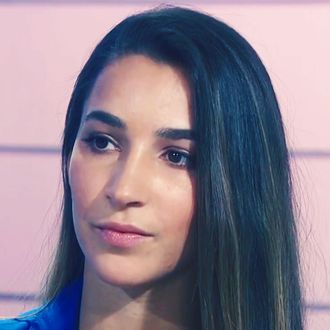 Aly Raisman on
Today
.
Photo: Today
In a Thursday interview with Today, Olympic gymnast Aly Raisman opened up about delivering her powerful testimony against former USA Gymnastics doctor Larry Nassar — just one day after he was sentenced to 40 to 175 years in prison for sexually abusing more than 140 women and girls.
The Olympic gold medalist came forward in November to allege that she was one of the young women who were sexually abused by the former physician. Later, Raisman's Friday testimony against Nassar went viral, after she looked at him in a Michigan courtroom and said, "Imagine feeling like you have no power and no voice. Well, you know what, Larry? I have both power and voice, and I am only beginning to just use them."
Speaking with Today, Raisman said, "In that moment I almost felt like I was going to compete. In that moment I blocked out everything. I forgot that people were watching me. I forgot the media was over there. I forgot that Larry was right there. I just spoke and I felt like I really had to be strong, I feel a responsibility. But after, I will be honest, I was sick, I almost passed out."
When asked by Hoda Kotb whether she felt justice was served in the case, Raisman said, "No. I mean it's not something where you just instantly feel better." The gymnast also called for an independent investigation into USA Gymnastics, the United States Olympic Committee, and Michigan State University.
"This is bigger than Larry Nassar," she said. "We have to get to the bottom of how this disaster happened." And, speaking of Nassar, Raisman added, "He deserves to suffer."
Watch the full interview below.