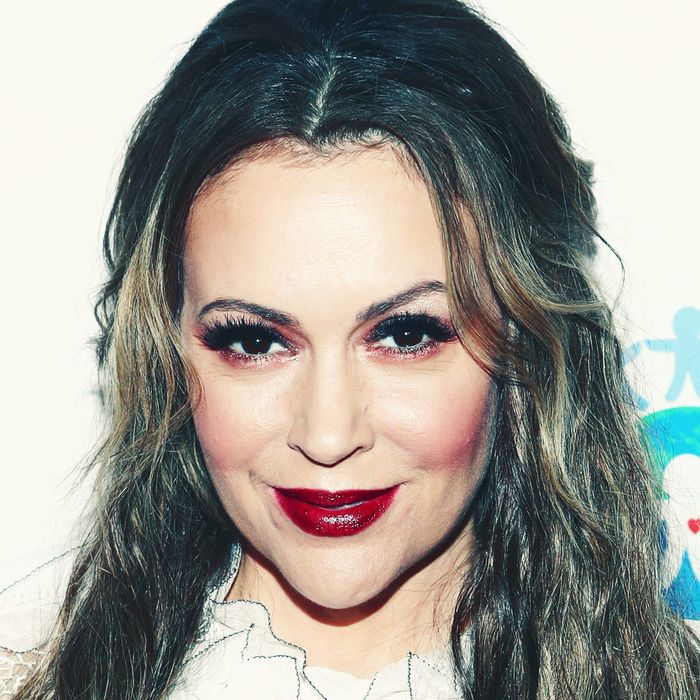 Alyssa Milano.
Photo: Randy Shropshire/Getty Images for World of Children
Back in October, actress Alyssa Milano urged people who had experienced sexual harassment to share the hashtag #MeToo, a phrase borrowed from activist Tarana Burke, who began using it in 2006. Since then, Milano has been a prominent figure in the movement to fight sexual misconduct in Hollywood. In a powerful essay for Rolling Stone on Thursday, the former Charmed star shared her thoughts on the current cultural moment we find ourselves in, and her hopes for Time's Up, the new initiative formed by over 300 women in the entertainment industry to combat sexual harassment and inequality in the workplace.
On #MeToo
Every fiber of who I am on a cellular level has been changed since I sent that tweet. It would be impossible not to be affected or impacted by the stories that people have shared with me. It is powerful when a woman uses her voice. But to hear it over the last three months and have it be such a sadly common phenomenon has changed me. I can only applaud in total awe the work of community leaders like Tarana Burke who have dedicated their entire lives to supporting victims.
On Time's Up
So in this hubbub of actors and entertainment industry leaders uniting and coming together to create Time's Up, I want us to be mindful of supporting the victims in the workplace or the victims in Ethiopia who are afraid to use their voice. We must address the systemic inequality and injustices in the workplace at large that have kept underrepresented groups silent. We will succeed if we are the voice for the voiceless. If we can use whatever power we have as influencers to represent every single woman — we will heal.
On Trump
We must hold Trump accountable. If we're asking senators to resign because of sexual misconduct, what message does it send that we are allowing a man who has had 19 women come forward and accuse him of misconduct, to be our president? How are we not holding him accountable for this? It's bigger than collusion with Russia or anything else that we accuse him of doing and being. Our daily vernacular of the #MeToo movement is right there in front of us every day leading our country. 
On Harvey Weinstein
These brave women who were blacklisted by Harvey Weinstein and were the first to break the silence are now in their late 40s and 50s. How much work is there for women in their late 40s and 50s? Harvey Weinstein ripped a generation of actresses from society. Think about that. An entire generation of talented, amazing, smart women that did not comply with his horrific demands was erased from the entertainment industry.
Read her full essay here.