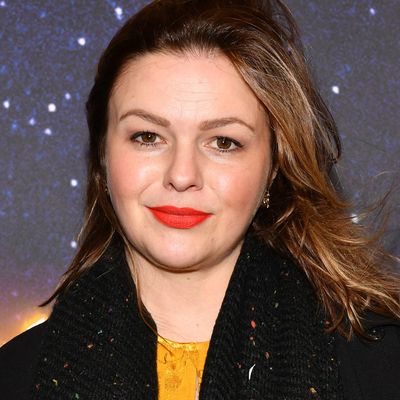 Amber Tamblyn.
Photo: Dia Dipasupil/Getty Images
To coincide with the Golden Globes on Sunday, actress Amber Tamblyn penned an op-ed for the Times on "redefnining" the red carpet, which she feels is objectifying and imposes unrealistic standards of beauty upon women.
"For most actresses on red carpets, what you're wearing is less an expression of who you are and more an expression of what you're worth," Tamblyn writes.
She then goes on to spell out the "masochist's checklist" of what it can take to get ready for the main event, including airbrushing, chemical peels, and crash diets. And then, of course, there's the part where you put on high heels.
In 2004, When Tamblyn herself was nominated for a Golden Globe for her role in Joan of Arcadia, she writes that she had a "full anxiety attack" after a dress fitting:
Years ago when I was nominated for a Golden Globe for best actress in a television drama, I had a full anxiety attack after the dress fitting, even though I had found a beautiful dress that fit me nicely. I found myself in my car, the air-conditioning on full blast, sobbing into my steering wheel. The anxiety I was feeling wasn't about the dress itself. It was about the fulfillment of the obligations of the dress.
Tamblyn acknowledges that for some women, including her friend and Sisterhood of the Traveling Pants co-star, Blake Lively, "dressing up is a joy that comes quite naturally." And in recent years, she's become more comfortable in her skin on the red carpet, thanks to Lively's advice and stylists like Karla Welch and Sarah Slutsky. However, she still believes that in trying to meet the red carpet standards set for them, celebrities are saying this is what all women should strive to meet as well.
Tamblyn hopes that in wearing all-black to the Golden Globes on Sunday — as most attendees have chosen to do in support of Time's Up — celebrities are taking a step toward rejecting these red-carpet standards. (However, as attendees roll-in, most celebrities appear to be just as done-up.)
"Wearing black is not all we will be doing," she explains. "We will be doing away with the old spoken codes in favor of communicating boldly and directly: What we are wearing is not a statement of fashion. It is a statement of action. It is a direct message of resistance."