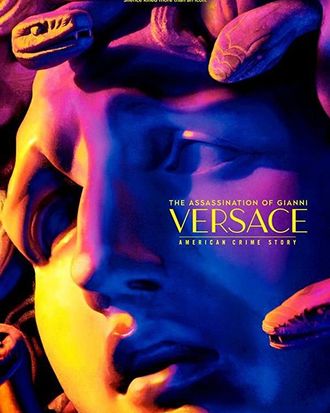 This Wednesday night, The Assassination of Gianni Versace will premiere on FX after much anticipation. It is the second installment of Ryan Murphy's hit miniseries, American Crime Story, which began last winter with The People Vs. O.J. Simpson. It recounts the real-life murder of Italian designer, Gianni Versace by the fashion-obsessed serial killer Andrew Cunanan.
In preparation for tonight's premiere, which is sure to be talked about on Twitter and in living rooms from Miami to Milan, we've gathered all the information you need to know.
Who is in the cast?
Venezuelan actor Édgar Ramírez plays the Italian fashion designer, Gianni Versace. You might recognize Ramírez for his luscious curly hair and/or from his recent role in Bright with Will Smith. International pop superstar Ricky Martin plays Versace's longtime partner, Antonio D'Amico. Spanish actress Penélope Cruz plays a platinum blonde Donatella Versace, Gianni's sister and current designer of the house. And Darren Criss (of Glee fame) plays Andrew Cunanan, the serial killer who shot Versace.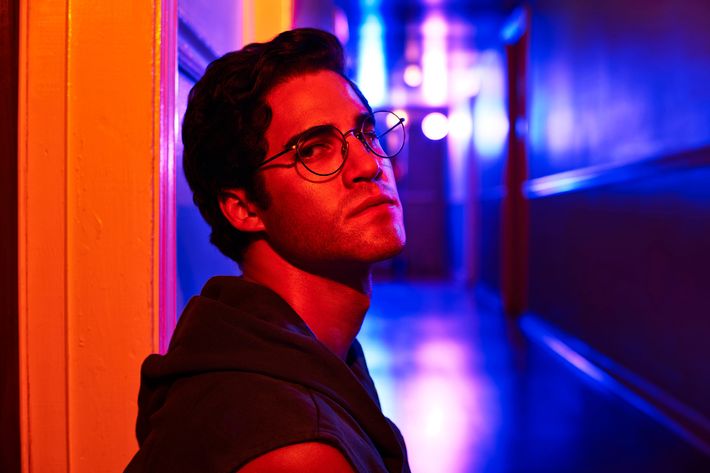 What is it about?
The show is based on Maureen Orth's 1999 book, Vulgar Favors: Andrew Cunanan, Gianni Versace, and the Largest Failed Manhunt in U. S. History. It works backwards, staring on July 15, 1997 — the day Cunanan shot and killed Versace in broad daylight outside of his Miami Beach mansion. Versace was Cunanan's fifth known victim, and while the designer's name is in the show's title, much more time is devoted to revealing Cunanan's past, giving viewers a glimpse of what lead him to appear on Versace's doorstep and ultimately to take his own life.
"The underlying subject is homophobia and how homophobia killed [Cunanan]," Ramirez said during the show's press tour this month. Cunanan was gay and romantically involved with some of his victims — all of whom were men. He even claims to have gone on a "date" with Versace long before his murder, which the family denies.
In this way, just how last season used the trial of O.J. Simpson to tell a much larger story about race and sexism in America, The Assassination of Gianni Versace explores what it was like to be a gay man in the 1990s in the middle of the HIV/AIDs crisis. (Versace himself was openly gay. He was also reportedly HIV positive, which the family also denies.)
"It was a political murder," said producer Ryan Murphy. "[Cunanan] was a person who targeted people specifically to shame them and to out them, and to have a form of payback for a life that he felt he could not live."
In sum, while the show is not about fashion, per se, it is about power, sex, and luxury — specifically the luxuries afforded to some and not others.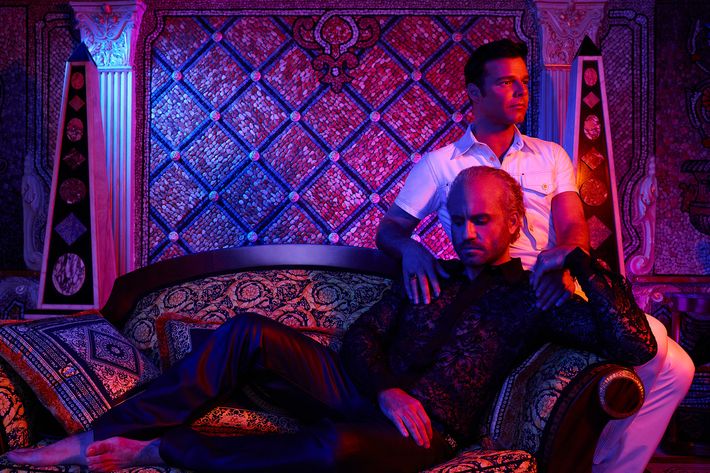 Will the costumes be amazing?
They're pretty great. But it's a bit complicated.
The Versace family was not happy when they found out this show was being made. They refused to have any involvement whatsoever in its production, meaning no costume loans. (They're also not dressing the show's actors for red carpet appearances.) Earlier this month, the brand released a statement calling the show a "work of fiction," also saying that Maureen Orth's book was "full of gossip."
So costume designer Lou Eyrich and her team had to source vintage Versace elsewhere, buying belts, boots, jewelry, bags, logo shirts, and more from places like eBay and Etsy. They also visited vintage stores like C Madeleine's in Miami, as well as The Way We Wore, Decades, Catwalk, and New/Found in Los Angeles.
A team of in-house tailors constructed the rest, including a whopping 17 looks for a scene depicting Gianni Versace's final haute couture runway show in 1997.
While Eyrich pulled many of the show's looks from specific research, Ryan Murphy — whom Eyrich has worked with previously on American Horror Story, Glee, and Feud — provided direction for show's costumes as well. "He wanted a lot of those Miami colors: pinks and greens, and yellows, and aquas," Eyrich told the Cut. "They show the heat and sizzle of Miami. In contrast, they also show the bleakness of Andrew Cunanan's life." Murphy also requested that Cunanan wear a hot pink Speedo, which was custom fit to Criss's proportions.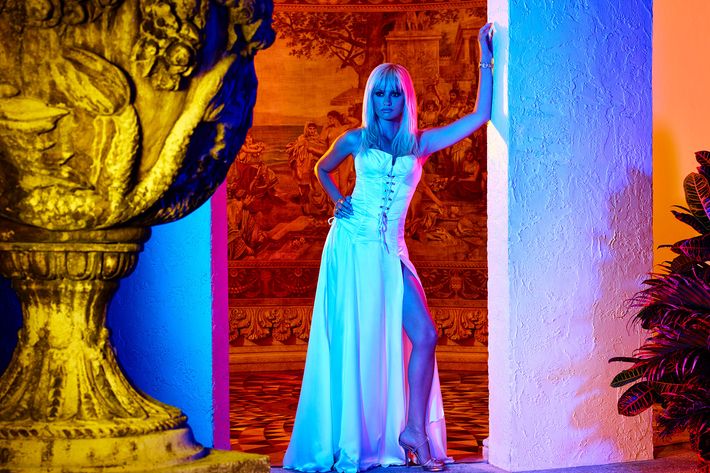 If I don't care about fashion, should I still watch?
Yes, we think so. Like we said above, the show isn't really about fashion. And besides, how can anyone say no to a show involving sex, violence, and hot pink Speedos? For more nuanced opinions, read Vulture television critic Matt Zoller Seitz's full review, here.
Okay, when is it on?
The Assassination of Gianni Versace: American Crime Story airs Wednesday, January 17 at 10 p.m. eastern on FX.