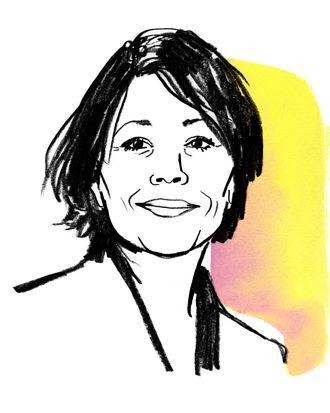 Ann Curry.
Illustration: Lauren Tamaki
Ann Curry is an award-winning journalist and former NBC News anchor and co-host of the Today show. Now, she has a new six-part PBS series, We'll Meet Again (airing Tuesdays at 8 p.m. eastern), which brings together people whose lives intersected during some of the most pivotal events in history — from the Vietnam War to the civil rights movement. She lives in New York City with her husband, Brian, and has two adult children. Here, she shares how she gets it done.
Her morning routine: I usually wake up around 7ish, which is much later than I used to. Then I grind coffee beans and make a pot. I feed Claus, our goldendoodle wonderdog, and have a bowl of unsweetened, plain whole-milk yogurt with blueberries. Then I just start reading the papers on my iPad and checking Twitter. I read the New York Times, the Washington Post, and the Guardian, and sometimes I'll listen to a little NPR. I check Twitter. I generally don't turn on the television [for the morning shows] anymore. I used to, but I stopped.
On life after Today: I have two offices now. One's a home office and one's an office in a very busy workspace with lots of other people. I work out now every day — I didn't used to get to do that. I meet my husband at the gym almost every weekday after work at about 6 p.m. And then we walk home together. It's really lovely to have that.
On unwinding: After dinner, I get back into my emails. I try to finish that by 9 — sometimes it's around 10. My routine with Brian is, sometimes I pour a little, tiny splash of brandy, and we sit and talk. Sometimes we're watching something that he likes to watch or that I like to watch. I like Game of Thrones and The Handmaid's Tale; he likes Silicon Valley. We both like Grace and Frankie, so we do that. People might laugh at us, but after a really hard day, Antiques Roadshow is super relaxing. So when that's on, I say, "Honey, do you want to watch Antiques Roadshow?" And he goes, "Okay, well, I know what kind of day you've had."
On the recent sexual-harassment scandals: I don't know what to say about it all except this: Believe these women. Protect their jobs. If they've lost their jobs, hire them without stigma. Give them emotional support and protection. I think men should do this, too. This is the time to get out of the trenches and move forward. If we don't, the abuse will continue, and we will fail to protect the next generation. And we just cannot let that happen. That's what I have to say about that.
Biggest differences for men and women in TV: Both men and women feel pressure to meet some sort of standard in terms of appearances, but it's more intense for women. In my lifetime, women have had fewer leadership roles in TV (like executive producer, or president), and that creates a different kind of pressure. These are very coveted positions. Women are still trying to rise up, and we're achieving some things, but it's very slow.
Why she wanted to be a journalist: I grew up with Watergate, the civil rights movement, the women's liberation movement, and the Vietnam War. My father and I used to watch Walter Cronkite, and at the dinner table, he'd pound his fist on the table and say, "What is wrong with young people today? Don't they realize it's my country, right or wrong?" And that usually launched a long verbal battle between me and him. This is how I learned that being informed mattered. You couldn't have these arguments without being informed. It's also how I learned that what happened a long way from my hometown of Ashland, Oregon — then with a population of 15,000 — still mattered to people there. So I became very aware early on that journalism has power.
Her first job in journalism: I was working as a waitress, trying to pay off one of my college loans, when someone told me that there was an internship open at the local TV station. And that was my first job, at WTVL in Medford, Oregon. I picked up the mail, ran the studio cameras — I did everything but wash the windows. It was a great way to learn, and I worked my way up to being the station's first female reporter.
What she's learned in her career: I've learned that I'm brave. I've learned that I'm willing to work extremely hard. I've learned that I am not afraid of risks. And I've learned that I should follow my gut most of all. Journalists too easily forget to be humble, because you know, you have a byline or you're on camera. But humility and integrity are the two most fundamental requirements for being a journalist, over and above everything else.
On what attracted her to working on the PBS series: A lot of my focus in my reporting has been global humanitarian warzones. I generally arrive and put a microphone in somebody's face when they're going through a terrible thing in real time. So I knew in my gut immediately when I heard this idea that it was exactly what I wanted to do. I thought, This is a way to tie a bow on the other end — to talk to people after they've had years to think about a huge traumatic event, and to help them find the person who survived it.
On staying sane on the road: I have traveled a lot. I always worry about a trip before I actually do it, but once I get on the plane, I stop worrying. All the worrying has already happened; now I'm on a mission. The thing that keeps me sane on long flights are fuzzy socks — I wear them and a scarf. I always carry earplugs, and I always pack something supercomfortable to relax in wherever I go. Also, whenever I'm traveling east, I never have the meal. I go to sleep as soon as I can because it helps with jet lag.