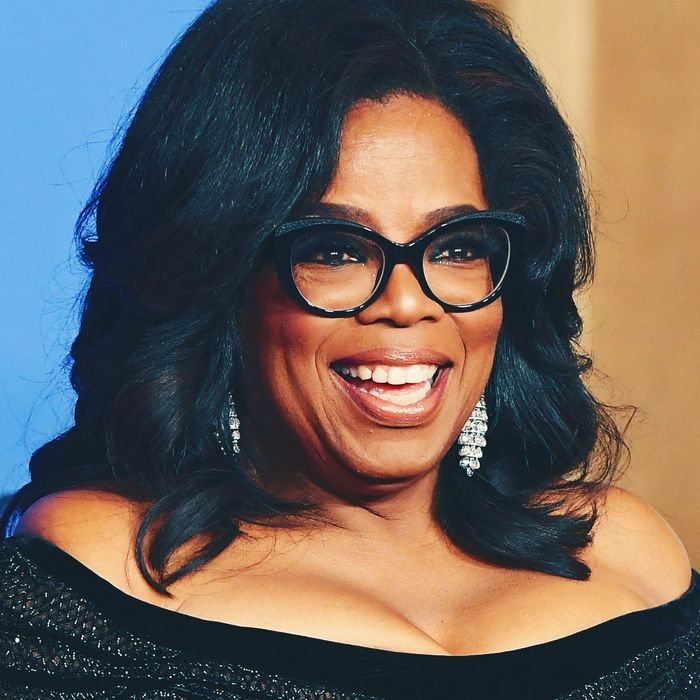 Oprah Winfrey.
Photo: Kevin Winter/Getty Images
Ever since her banger of a Golden Globes acceptance speech (now streaming on Spotify), rumors have swirled around a potential Oprah presidential run in 2020. But despite many people's enthusiasm — including Meryl Streep, NBC, and, astonishingly, Donald Trump — not everyone is thrilled with the idea of President Winfrey, and soon, they'll have merch to show it.
According to TMZ, an Arizona man has applied to trademark "NOprah" for use on shirts, jackets, water bottles, etc. The man, who would only go by "Lewis", says he is not sure is he wants to start selling "NOprah" merchandise now, or wait until an Oprah presidential run in more certain. He also wanted to assure people that he is a huge Oprah fan, but doesn't love the idea of her running for president.
Lewis is not the first person to try to make it rich off of Oprah 2020. Earlier this month, TMZ reported that the owner of the Oprah2020.com domain name said he's willing to sell it for at least six figures. He said bought the domain in 2016 because he thought more celebrities might run in the future. So far, no one has taken him up on his offer.
As for those of you who are excited about President Winfrey, don't worry — there's already plenty of pro-Oprah (PROprah?) merch out there. For everyone else who yearns desperately for the possibility of a wonky, noncelebrity, experienced presidential candidate, there is nothing.