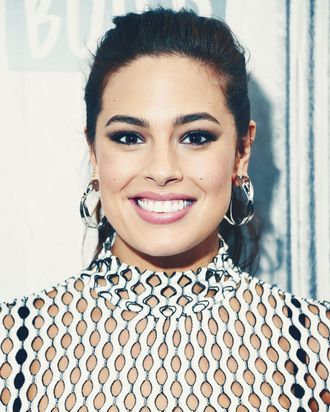 Photo: Michael Loccisano/Getty Images
"Lipstick does not have a size," says curvy model Ashley Graham, who is Revlon's newest face. With the news, Graham becomes one of the first major "plus-size" models in history to land a big beauty contract. Beauty spokesmodel jobs are typically given to traditionally sized models (a curious phenomenon we also wondered about last year). The last significant gig was Robyn Lawley's two-year contract with Pantene in Australia.
"Historically, curvy girls are not given beauty contracts. It's kind of groundbreaking, because in my generation of models, this hasn't happened yet. This is one of those moments where I'm over the moon, I cried a little," Graham told WWD. Graham joins Gal Gadot as well as models Imaan Hammam and Raquel Zimmerman to represent Revlon's new "Live Boldly" campaign. Revlon's global president Anne Talley and Linda Wells, chief creative officer, are instrumental in the brand's repositioning.
In talking about the message of the campaign, Graham mentions a time when she wanted to do the opposite and give up. "There was a moment in my life … [when] I wanted to go home, I wanted to go back to Nebraska from New York and I wanted to give up and I was just done with modeling because it was such a hard, cruel world. [My mom] said, 'Ashley, your body is supposed to change someone's life.'" New images (notably featuring multiple models in real-life settings) will begin rolling out over the next 18 months.