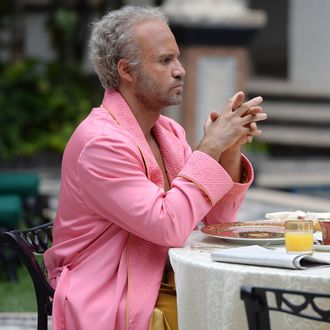 Ganni Versace played by Édgar Ramírez.
Photo: Jeff Daly/FX
Alore! It's here: The Assassination of Gianni Versace: American Crime Story premiered Wednesday night, whetting our palates for all things gaudy, neon, and of course, Italian. Below, a close reading of every look.
High Versus Low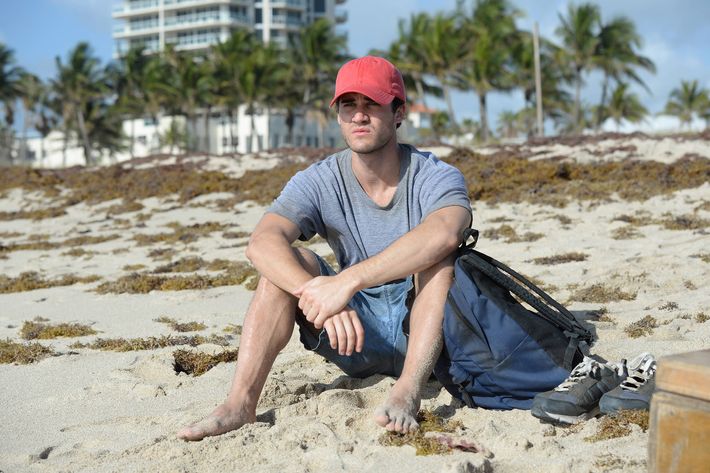 Episode one begins with Gianni Versace (Édgar Ramírez) opening his eyes to carpe diem. He slides his feet into his Versace slippers, struts down the hallway of his (actual) Miami mansion in Versace silk pajama bottoms, and dons a flowing, hot pink robe before stepping out onto a balcony to survey his kingdom. Everything is easy, breezy, beautiful.
Meanwhile, Andrew Cunanan (Darren Criss) sits perched on a public beach below, looking out over the ocean with a scowl. He opens up his backpack, casually pulling out his only two possessions: a worn copy of The Man Who Was Vogue: The Life and Times of Condé Nast, and then a gun.
These first few vignettes set up Versace and Cunanan in stark contrast. Versace eats fresh fruit handed to him on a Versace-branded platter; Cunanan chugs a soda for breakfast. Versace wears linen shorts and a Versace Medusa logo tee; Cunanan wears sandy jorts and a nondescript gray shirt. Versace buys a copy of Vanity Fair, (Cunanan's favorite magazine) featuring Princess Diana, who would later attend Versace's funeral; Cunanan studies Condé Nast from afar.
When the Lights Go Down, We're All the Same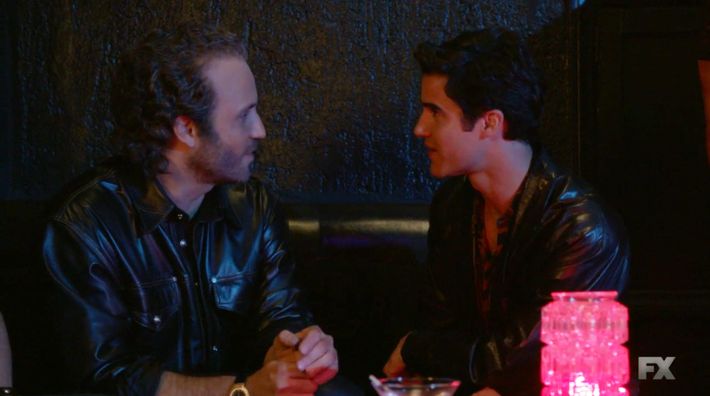 The show works backwards, starting with Versace's murder and then flashing back to 1990, when Cunanan first meets Versace in San Francisco. (In real life, the Versace family denies they ever met.) At the time, Versace was in town designing costumes for Capriccio, an opera. Cunanan enters a crowded nightclub wearing a leather jacket and a printed shirt, which looks like a Versace knockoff that's faded in the sun. "Last Night a DJ Saved My Life" plays (ironically) as a crowd in tank tops and ass-less chaps dances to the music. Cunanan spots Versace, who is wearing a leather top far more polished than his, sitting in the VIP section. He makes a point to start a conversation, and succeeds in winning Versace's attention.
The next morning, Cunanan tells the story of his encounter with Versace to his friend-slash-roommate Lizzie and her husband, embellishing the details a bit. One line in particular comes straight from Maureen Orth's reporting, on which the series is based: "I say to him, 'Honey, if you're Versace, I'm Coco Chanel!" Of course, Cunanan knows he is, in fact, Versace. And in his mind, he fancies himself a bit of a Chanel.
"I'm not really a fan of his clothes, per se," Cunanan continues. "It's so bright; it's too much. They say Armani designs clothes for wives; I think Versace designs clothes for sluts." Despite all this, Versace has invited Cunanan to the opera. Obviously, he's going.
Master of Disguise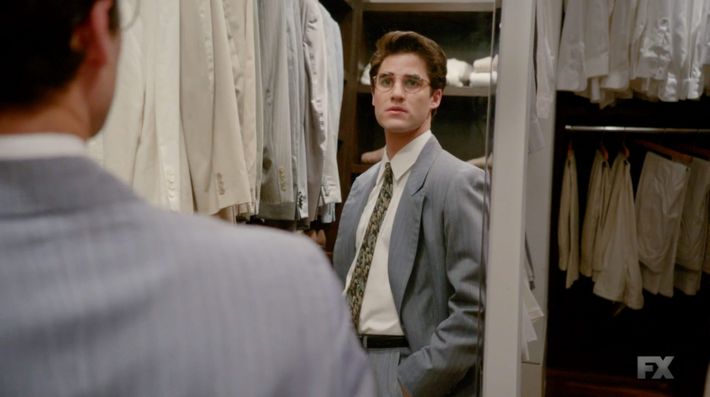 When the big night comes, Lizzie returns home from work to find Cunanan wearing her husband's suit, tie, and loafers. "I have nothing," Cunanan says, explaining he wants to look "impressive." Lizzie ultimately pities him, and lets him borrow her husband's gold watch, too.
"[Cunanan's] whole thing was being a master of disguise," says costume designer, Lou Eyrich. "He was a chameleon. If he wanted to be in the rich world of older men, he dressed that part. If he wanted to fit in with his college buddies, he'd throw on his polo shirt and khaki shorts. He was straight with straight people and gay with gay people. Everything was a lie, and he lived behind that whole façade."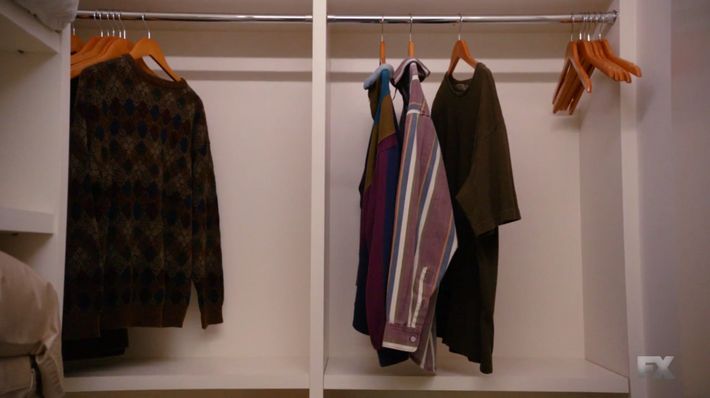 After the opera, Versace meets Cunanan wearing a humble black turtleneck and black pants. Cunanan spins fictitious tales about his family, while Versace recounts more innocent stories about his idyllic childhood, explaining the origins of the Versace Medusa logo — he came across it while playing around in ancient ruins — and that he made his first dress for his sister, Donatella. "Maybe every dress I make is for her," he says.
"That makes me want to cry," says Cunanan.
Boss Bella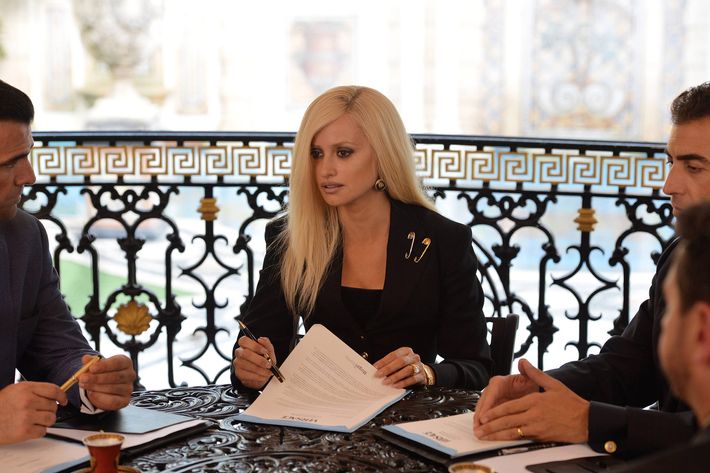 Flash back to the scene of the crime. Donatella (Penélope Cruz) arrives in a black limousine wearing black leather pants, a black leather blazer, and black sunglasses, making her signature blonde hair (Gianni convinced her to dye it) appear even more platinum. Despite her obvious grieving, she immediately gets down to business. Protecting her brother's legacy is her number-one priority, and Versace was about to take the company public. (This was true in reality.) Donatella decides against it.
"This company was his life," Donatella says in a tearful monologue. "When he was sad, it made him happy. When he was sick, it kept him alive. And my brother is still alive as long as Versace is alive. I will not allow that man — that nobody — to kill my brother twice."
Revenge Suit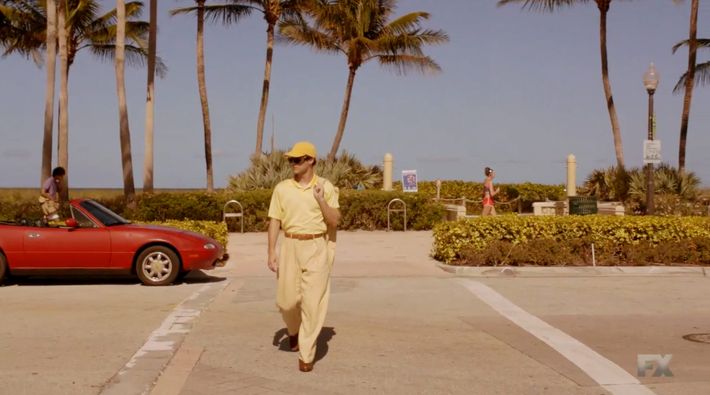 The episode ends with Versace and Cunanan's roles reversed. While the Versace mansion is shrouded in darkness, Cunanan walks down the streets of Miami in plain sight wearing a sunny yellow monochrome outfit and Versace sunglasses. He buys a stack of newspapers with his name inside their pages this time, exactly as Versace did minutes before he was shot.
"Ryan [Murphy] wanted him to have this Talented Mr. Ripley moment, where he's gotten away with murder," says Eyrich. "You don't know it from the first episode — because you're going back in time — but it's not until you watch that you understand why that [outfit] was significant."
Stay tuned.