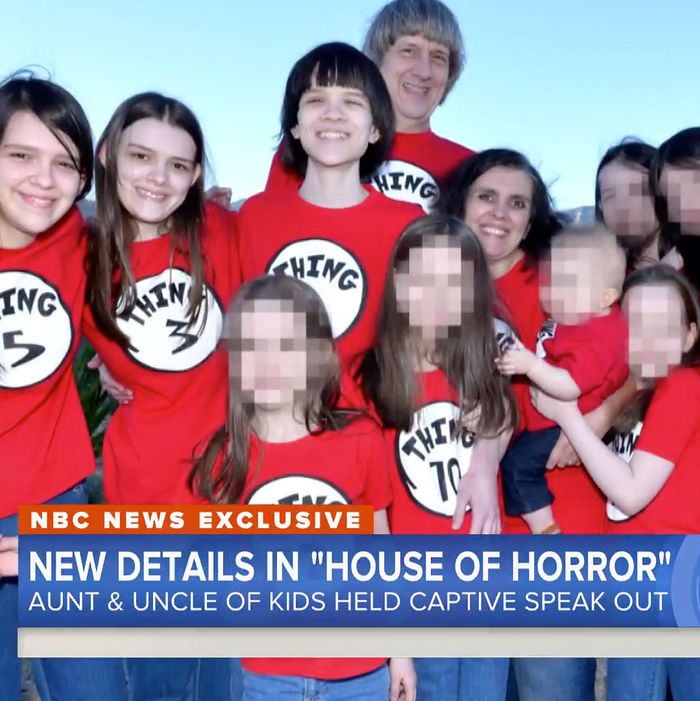 Louise and David Turpin with their children.
After 13 severely neglected siblings from the ages of 2 to 29 were discovered in what's being called a "house of horrors" in Perris, California, family members and neighbors are speaking out about the case. This includes their aunt, Teresa Robinette — the sister of Louise Turpin who, along with husband David Turpin, has been arrested under suspicion of torture and child endangerment and held on a $9 million bail.
Robinette, a Tennessee resident, told NBC News that her sister had left home when she was only 16 years old to marry David — who is eight years older than her. "My parents before they died in 2016 begged to see her. Even on their deathbed they asked to see her," Robinette said. "She didn't even show up to either of their funerals."
"We are as hurt and shocked and angry and disappointed as everybody else," Robinette said of her nieces' and nephews' situation. She adds that "they weren't allowed to date, they didn't have a social life, they weren't allowed to watch TV. They weren't allowed to talk on the phone, have friends over, the normal things kids were allowed to do." They were all found malnourished, and several were shackled to furniture.
"We always thought [Louise] was living the perfect life," she added. "She would tell us they went to Disneyland all the time. They would go to Vegas."