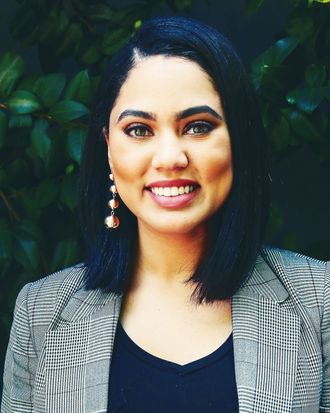 Ayesha Curry, CoverGirl.
Photo: Robin L Marshall/Getty Images
Many of us first encountered Ayesha Curry through YouTube. In 2014 she uploaded "Chef Curry With the Pot" — a remix of Drake's "0 to 100" — to showcase her cooking skills. Her husband, basketball phenom Stephen Curry, appeared in the video, too. The video went viral and marked a defining point in Ayesha's career.
Less than four years later, Ayesha is a Food Network star, a cookbook author, a restaurateur, and, most recently, the new face of CoverGirl. Below, she talks to the Cut about the $7 hair gel she can't live without, the pressure to look good at basketball games, and the magic of contouring.
What does being a CoverGirl mean to you?
It's an incredible honor. Obviously, I feel like every little girl skimming through a magazine: you dream of it but you never think it's attainable. Especially for me not coming from an entertainment industry background, but from the world of food. I hope that it sets an example for young girls to know that they can achieve any dream that they set for themselves, to some capacity. So, it's been an exciting, thrilling experience for me. I'm still trying to wrap my head around it.
What excites you about beauty?
I love the way that you can use it as a form of self-expression and that it can be a reflection of how you're feeling that day. For instance, if I'm feeling a little sassy and confident that day, maybe I'll go for a bold red lip. If I'm just trying to play it cool, a nude lip always goes a long way.
For a long time, beauty, and makeup in particular, wasn't seen as a form of self-expression. It was like, if you're into makeup, you're just vain.  
Yeah, superficial. But it's not that at all.
Now that you're a part of the beauty world, is there something that you are hoping to change about the overall conversation?
I feel like we're already starting to do that. I love the rebranding of Covergirl and the way that they're bringing different people from all walks of life together. We have Maye [Musk], who's almost 70 years old; we have a motocross racer; Issa Rae, who's killing it right now — she's directing, she's acting, and she started from YouTube, which is crazy — and then myself. We're all different types of women — women of color, different ethnicities — I love it, and I feel like it's just such a different message than what's been sent out from other companies.
Do you feel pressured to sort of look a certain way when you attend basketball games, where you know you're going be photographed?
I think the narrative has changed over the years. There used to be this whole stigma about the women behind the men of basketball, and now, I'll tell you, girls, we show up in sweatsuits sometimes. There is a little bit of pressure because people are asking to take pictures and stuff like that, so I do always feel like I need to be a little prepared and put together, but there have been moments where I'll show up in a hat and may or may not have brushed my hair that day.
What does your skin-care routine look like?
The one thing my mom taught me was to never go to bed without washing my face, and so I wash my face at least twice a day. Right now I'm using a cleansing oil from Tatcha, and so I put that on and then you add water and it turns into a milk, and it literally removes all of my makeup. And then I've been really into this Urban Skin Rx mask. I love it. I saw it from Teyana Taylor. She's obsessed with those products, and so I've been using that. My hormones are going a little crazy so my skin's been acting up, but in general that's what I love, and then a good moisturizer.
In your opinion, what is the most essential hair-care product, tool, technique? 
I wear a lot of hair extensions because I'm doing a lot of shoots and things like that. But for me, a good edge control is really important, and then a headscarf at night. So I always keep some Cantu edge control around and I'll use a toothbrush and smooth down my edges.
How do you approach your hair and makeup for different occasions, like for your television show?
Much different than the way I approach my basketball game look. Glam for me is all about a good lip, lots of mascara, and contouring. Contouring is very important [laughs]. I love having somebody kind of have at it at my face and be experimental and do what the heck they want. It usually turns out alright.
Do you know how to contour?
At home I'll do the contouring myself. There are enough tutorials out there that you know where to put the stuff, but today I had a lot of help doing my makeup. They really focused on the hollows of my cheeks, my forehead, and down the sides of my nose. I love it.
Sometimes contouring gets a bad rap.
Well, it's all about photographs, right? You can walk around with no contour and look great in person, but when that flash hits it just widens everything. A little contour goes a long way.
This interview has been edited and condensed.
If you buy something through our links, New York may earn an affiliate commission.