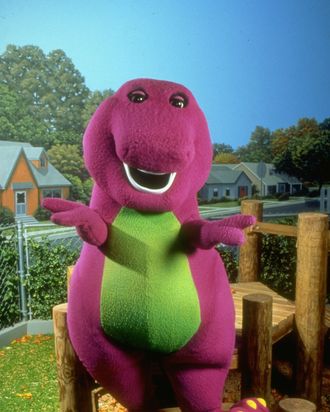 Barney?
Photo: Mark Perlstein/The LIFE Images Collection/Getty
David Joyner, the man who played friendly purple dinosaur Barney throughout the '90s, now runs a Tantric sex business called Tantra Harmony. Feel old yet?
According to a story published on Tuesday by Vice, Joyner started his practice in 2004. For $350, Joyner's clients, or "goddesses," get a full session which can include a ritual bath, chakra balancing, a massage, and possibly an orgasm to help release all of your blocked energy.
"It is time for women to understand their true worth and the true essence they have to offer to the world," Joyner writes on his website. "The true spirit of a woman that lies within, must now take its true and rightful place, and shine its light for all to see. This is my goal!!! This is my calling!!! This is my mission!!!"
The legality of Joyner's personal mission, however, is debatable. According to Vice, one of the ways he believes in helping his clients reach a "higher and more blissful state of awareness" is through penetrative, unprotected sex (he says condoms "block the energy.")
(He also told Vice "When you go down on a woman (orally), it should be just like you're saying grace, like blessing the food you're about to receive. No food in the world can compare to goddess nectar because spirit is involved. Before you taste the goddess nectar, give thanks. Say grace. I would love women to understand how powerful that energy is." )
None of the three clients that Vice spoke to said they felt pressured or coerced into sex, but if one of his "goddesses" complained, Joyner could potentially be charged with solicitation in the state of California for massaging someone with the intent of causing arousal.
Joyner began practicing Tantra in the 1980s, and while attorneys for Barney & Friends told him he couldn't practice it while playing the character, he says Tantra helped him "maintain an abundance of joy during the process."
Read the full story here, and listen to the "I Love You Song" in a very different light below.