Here's what I remember about my first barre class: The workout was so grueling it made my muscles twitch as I lay on my back, rhythmically thrusting my pelvis to a sensual cover of Rihanna's "Umbrella." Beyond the thrusting itself, I was struck by the expressions of the spandex-clad women beside me, who seemed entirely unamused by the synchronized schwing we performed. All around me, everyone was taking their air-humping very, very seriously.
Barre, a fitness phenomenon based on stretches and strength-training exercises performed at a ballet barre, has exploded in recent years. The workout is as challenging as it is effective at sculpting women's bodies — its enthusiasts are known for being physical overachievers who are already fit but nevertheless driven to chisel themselves to perfection.
It's the "pretty girl" workout, a friend recently told me, with nearly every woman in class covered in Lululemon, no sweatpants in sight. But the moves of the workout itself belie this prim ethos. From the pelvic "tucking," in which you roll your groin forward, to the seated ab work, where you sit with legs spread and bent, to the "knee dancing," which is what it sounds like, the class can feel like an hour-long rehearsal for sex.
But barre classes rarely draw attention to the workout's sexual undertones — or to the fact that its tucks and thrusts can, as many instructors will privately admit, bring very real improvements to women's sex lives. Sex is altogether absent from the experience. "It's kind of like this weird elephant in the room," my friend M., a 20-something barre obsessive who lives in San Francisco, told me. "No one talks about it. But after you've done barre for like four days in a row, you're not going to lie there like a dead fish during sex. You feel like a strong woman who's like, rawwwr, you know?" Still, barre studios sell strength — or "long, lean muscles" and a "ballet body" — not stronger orgasms.
This lack of acknowledgment isn't an oversight. When Burr Leonard, who founded the popular national barre studio Bar Method in 2001, trained to become a barre instructor in 1990, she says she was explicitly told not to call attention to the workout's sexiness or sexual benefits. "It was kind of a finger to the lips" about sex, she told me in a phone interview. "It was yes, but you just don't mention it." And when I reached out to Pure Barre, the country's largest barre franchise, for this article, its founder declined to speak with me after learning I wanted to talk about the connection between barre and sex. But why the reticence? Why not call a Kegel a Kegel?
It wasn't always this way. The secret most barre studios don't promote— and one many instructors don't even know themselves — is that barre's origins are deeply sexual. Barre's creator, Lotte Berk, a free-love revolutionary who began teaching the regimen in 1959, specifically wanted to advance what she called "the state of sex" by encouraging women to pursue sex for their own pleasure. And in the post–sexual revolution 1970s, women's magazines pitched the workout as a way for women to do just that — or as Cosmopolitan put it, to "build sexual confidence and competence." What today has become a mass commercial fitness trend — a straitlaced subculture in which butts are called "seats" — was once a radical, decidedly erotic practice.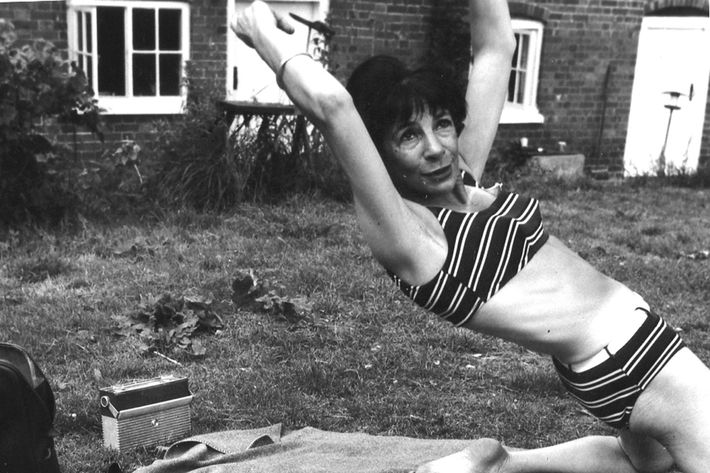 Berk, a German-Jewish dancer who fled the Nazis for London after they forbade her from performing, originally invented the workout that would become "barre" to recover from a back injury. Over time, she found that her special combination of ballet moves, yoga, and rehabilitative exercises helped her not only to heal and hold onto her dancer's figure, but also to get more pleasure from sex. And sex was important to her. As her daughter, Esther Fairfax, told me in a phone interview: "Sex came into everything she did. You know, you felt sex from her." (In her 2010 memoir My Improper Mother and Me, Fairfax writes about Berk's passionate, tumultuous, decades-long open marriage to her father and her many lovers. "She had such a natural instinct to flirt, to play the coquette … How quick she was to bed them. How quick she was to throw them out. She was a natural predator with a killer streak.") After refining her workout, Berk opened a small basement studio on Manchester Street and soon attracted a celebrity clientele, from legendary Irish writer Edna O'Brien to Bond girl Britt Ekland.
From the start, Berk's classes and her sex life were intertwined. She talked about her love affairs while she taught. She named her exercises "The Prostitute" and "Naughty Bottoms." One move was simply called "The Sex." Perhaps most famously, she is rumored to have told clients, "If you can't tuck, you can't fuck." And her clients loved her for it.
This was nothing short of radical. In the 1960s, the modern fitness industry was still in its infancy and the few regimens that existed prioritized finding and pleasing a husband, explains historian Shelly McKenzie, author of the book Getting Physical: The Rise of Fitness Culture in America. Berk encouraged women to please themselves — an attitude that complemented and contributed to the brewing sexual revolution. "This was very, very different," Fairfax, now 83 and living in Berkshire, England, told me of her mom's studio, "It liberated women to show them, 'I can be sexy as well. It's not just the men that want sex.'"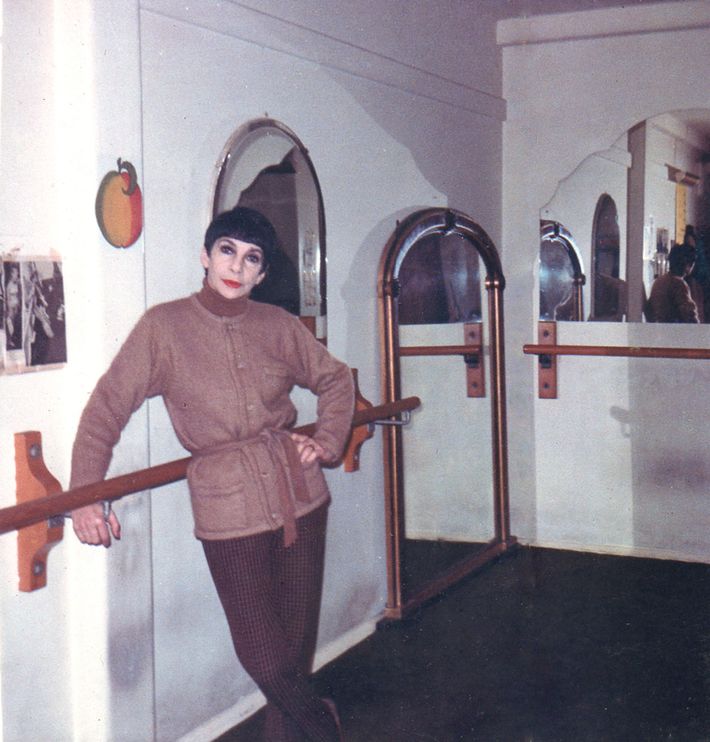 Then, about a decade after the studio first opened, a plucky Midwestern globetrotter named Lydia Bach found her way to Berk's studio. Bach became hooked and saw the potential in bringing the workout to America. She bought the rights to franchise, and in 1971, opened the Lotte Berk Method studio on 67th Street and Madison Avenue in New York City. Her client list included a slate of the era's stars — Love Story actress Ali MacGraw, Candice Bergen, and famed book editor Nan Talese.
In New York, Bach carried on Lotte's legacy of sexual frankness into the workout. In a 1972 New York Times article about the studio, Bach described the method as "a combination of modern ballet, yoga, orthopedic exercise and sex." In her 1973 exercise book Awake! Aware! Alive! — Bach devotes the entire last chapter to sex. "All of the exercises in this book are important for sex," she advises. The press was all over this angle. In a feature on Bach's book, Cosmopolitan gushed in the headline, "Exercise Your Way to a Better Sex Life!"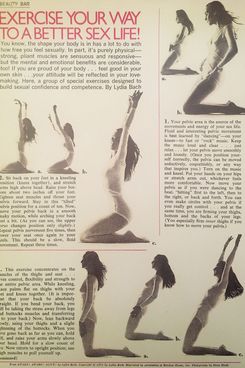 So what changed? Eventually, as the wider culture shifted, so did barre. From the mid-1970s into the '80s, with the rise of women's liberation, the idea that women enjoyed sex became less revelatory. For entrepreneurs, selling visible muscles and physical perfection became lucrative. Jane Fonda brought aerobics to the masses, and co-ed gyms became more popular. Americans started to view their bodies more like machines. "[The Lotte Berk Method] did make women strong, very fast," says Burr Leonard, who began taking classes at the studio in the early 1980s. And so the studio doubled down on that. In a blog post about barre's history, Leonard explains, "By the '80s the innocent idea that sex could be a path to freedom and enlightenment had run its course. Women had tasted strength and realized there was more to exercise than sex."
Bach says that throughout the '80s, the workout lost some of its sensual flavor and became more sleekly standardized. "It's a business to a lot of people — it wasn't a business to me," she told me. In the decades that followed, she would help train nearly all of the women who'd go on to open today's biggest barre franchises, from Exhale and Physique 57 to Pure Barre and Bar Method. By the time Burr Leonard became a certified instructor in 1990, barre had gone from subversive to staid.
Today's barre enthusiasts, who range from college-aged to grandmothers and are willing to pay $20 to $40 per class, say they don't always want to feel sexual while working out. "I know if, during training, I had been told to behave like a prostitute at any point, I would probably have never become an instructor," one New York City barre teacher who has taught at two different studios told me. "I bristle at the idea that sex would be the end goal simply because I want to think of myself as more than a sexual being." Burr Leonard agreed. "To make too much of the sexual aspect — frankly, it becomes boring," she told me. "People want to go into class and they want to focus on form. I don't think they want to really be told again and again how good it is for your sexual health."
And of course, even without being an explicit sex-workout, you can still reap the sexual benefits of barre — from increased pelvic floor strength to increased stamina —even if no one's talking about sex during class. "I think if we were all pelvic thrusting, holding onto the barre, and the instructor was like, 'This will be so great when you're having sex later!' everyone would immediately get uncomfortable," my friend M. told me. When Lotte Berk first introduced women to her workout in the '60s, the class's sexual openness felt thrilling, and empowering, because it was taboo. Now, more than 50 years after the sexual revolution, women seem to feel that turning a rigorous strength-training workout into something overtly sexual is gratuitous. "I want that hour to myself for my peace and my well-being and my mental health," Leonard told me, echoing the feelings of other women I spoke with. "I think that's what it does most powerfully."
Still, at least one franchise owner is actively working to bring the sex back. Pop Physique founder Jennifer Williams told me she laments that barre studios today feel "beige." She wants her studios, based mostly in Los Angeles and New York, to feel more electric. Unlike other franchise owners, she makes a point of teaching her instructors about barre's sexed-up history. Indeed, Pop Physique's first ad campaign was inspired by the photos in Awake! Aware! Alive!, and the brand's website is the only one to directly promote barre's sexual benefits. "A hotter sex life …" the site coyly promises. "Well, that's what we've heard."