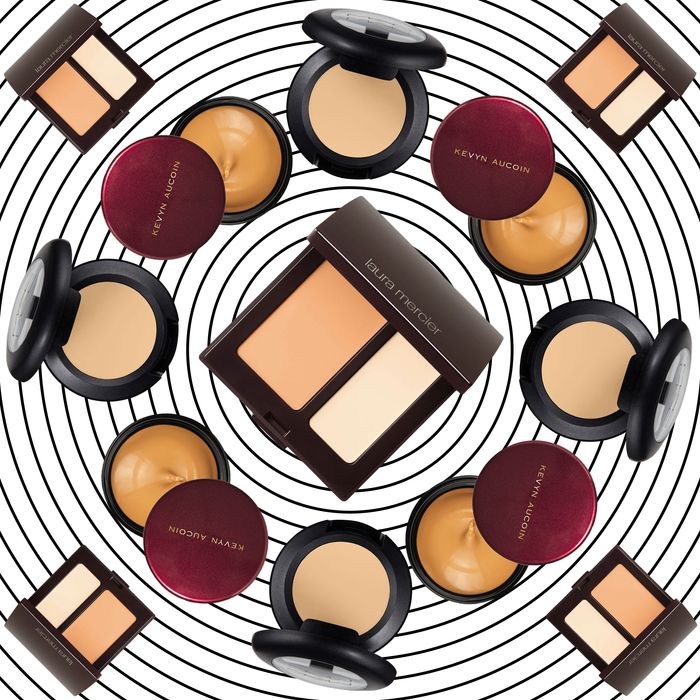 There are thousands of acne concealers on the market, but too many of them lack pigment or staying power. Lucky for you, I've been testing acne concealers since getting my first pimple in middle school and have cultivated a number of go-to options. Read on for the 11 best, curated from reading endless message boards on Acne.org and Reddit, and from my own hard-won experience.
Reddit agrees: Use an eyeshadow primer — not a concealer — as the first step to covering your pimple. Urban Decay's Primer Potion is so popular on the Reddit beauty boards that it even has an acronym: UDPP. Dot a tiny bit on the blemish and let it set to hide inflammation and redness and make concealer stick better.
When my first zit appeared, my mom refused to let me cover it up — she thought it was better to let it "breathe." The closest thing to makeup that I could sneak past her was tinted Clearasil from the supermarket, in a shade that was decidedly not a match. If only Jamie Kern Lima had been around back then. The founder of multi-billion dollar QVC beauty brand IT Cosmetics, Kern Lima has created a vastly improved spot treatment that's also a concealer. It comes in a variety of shades that seamlessly blend into your skin while fighting breakouts.
Once I got a little older and could afford something more expensive than tinted Clearasil, I found this. It served me well for nearly all of high school. There are 23 wide-ranging shades, so you have a high chance of finding one that perfectly matches your skin tone. And the thin-but-tacky texture is really effective at covering up everything from mosquito bites to extra-bratty zits. Tip: If you're going to wear it all day, set it with a bit of powder so that it doesn't become oily.
The Cruelty-Free Vegan Option
This comes in 21 shades, ranging from deep to very fair. Like all Kat Von D products, it's vegan and cruelty-free. The formula is thick and pigmented, but easy to blend. Kat tested it herself to make sure it covers tattoos. One warning: It can look a little thick, so use it sparingly.
Makeup artists know that to really cover a zit, you need more than one color. That's why this two-shade compact, which contains a color corrector and concealer, is so useful. I've watched professional makeup artists masterly blend the two sides with a brush until they create a custom shade so perfect that it can disguise even the largest cystic pimples. It has a dry texture that molds to the skin, making it particularly great for oily skin types. Learning how to create the best shade for your own skin requires some trial and error, but once you master it, your cover-up will stay put.
Photo: Kevin Hees
How do you cover a zit that, as Mindy Kaling once said, "ha[s] roots that seemed to extend into [your] brain"? You need a truly sticky concealer like this one, a heavy paste that feels like spackle — in a good way. Use only the tiniest, tiniest pinprick, even if you're trying to hide acne scars or a massive pimple. It comes in 15 colors, and you can even get a shade custom-made for you. To me, this is perfect.
Color theory explains why green is essential to hiding zits. Because green sits directly across from red in the color wheel, it neutralizes redness. Dab this on a blemish to dial down the red glow, let it set, and then add a skin-toned concealer as the final step. There's an effective step-by-step picture tutorial by this Reddit user to show you what it looks like. (It's actually more white than green.)
If You Want to Hide Tattoos
A husband-wife duo — one a dermatologist, the other a makeup artist — teamed up to create the company Dermablend. Since then, it's become a favorite on movie sets, where makeup artists use it to conceal actors' tattoos. The coverage is so strong that it can cover an entire body — so don't worry, it can handle a pimple as well. It's one of the highest rated concealers on Ulta.
The texture of this is somewhere between a paste and a liquid, so a few pats with a finger or a brush make it disappear into the skin. It's highly pigmented, so it can work to cover smaller blemishes, dark eye-circles, and — with the help of a color corrector — bigger zits. It gets plenty of mentions on the Acne.org message boards too.
Another concealer that promises to stay in place and really does. A multi-purpose concealer, you can use this for under-eye circles, redness, and lighter blemishes. It comes in nine shades and purportedly lasts for 15 hours.
Technically, this is a foundation. But Lisa Eldridge, the makeup artist with the most mesmerizing YouTube beauty tutorial voice, uses it with a concealer brush to cover up spots. Her tricks is taking small amounts and feathering it out with a brush. Watch her incredibly effective YouTube tutorial about how to cover up acne (featuring a model with actual blemishes) here.
If you buy something through our links, New York may earn an affiliate commission.