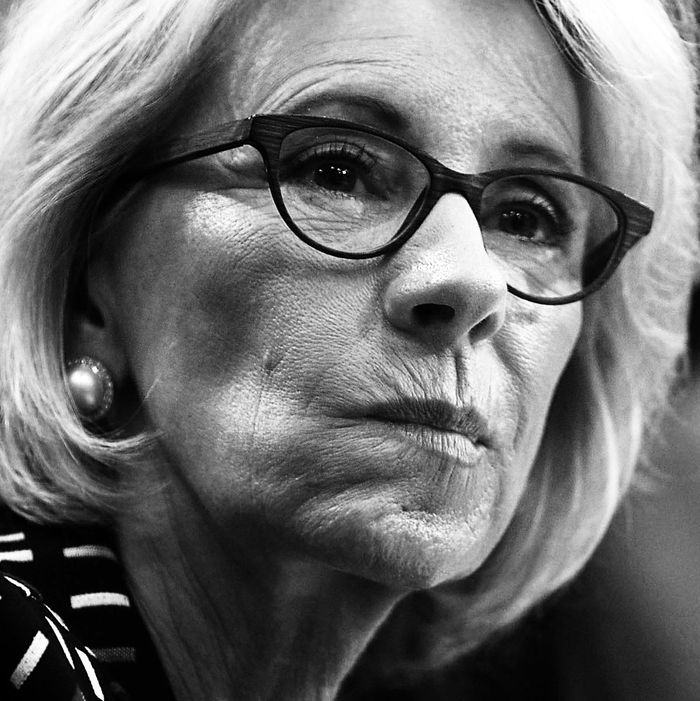 Secretary of Education Betsy DeVos.
Photo: Alex Wong/Getty Images
Secretary of Education Betsy DeVos, who reportedly consulted men's-rights groups before rescinding Title IX guidance on campus sexual assault last fall, is being sued for violating federal law and discriminating against accusers, the New York Times reports.
Equal Rights Advocates, SurvJustice, and the Victim Rights Law Center filed the lawsuit in the Northern District of California against DeVos, the Department of Education, and Candice Jackson, the acting secretary for civil rights at the department who once referred to Donald Trump's accusers as "fake victims."
In September 2017, DeVos issued a number of new rules to college campuses regarding the management of sexual-assault complaints, including one especially dangerous directive related to the standard of evidence used in the investigation of rape cases. While the Obama administration ordered colleges to look for a "preponderance of evidence," meaning that campus officials were more than 50 percent certain of someone's guilt, DeVos announced colleges can now use the harder-to-meet "clear and convincing evidence" standard.
According to the new lawsuit, DeVos's guidance has had a "chilling effect" on assault reporting. Per the Times:
In the complaint, SurvJustice said that the group had not only seen "a decrease in the number of sexual violence survivors seeking its services," but also observed a trend in educational institutions not responding at all, or not responding as promptly to its clients' complaints.




The group also wrote of "students who have questioned whether they should continue with their plans to report sexual violence given the uncertainty regarding their legal protections and an anticipated lowered likelihood of success created by the policy change."
The Education Department was previously sued by women's rights group Equal Means Equal, which claims that DeVos's rules on investigating campus sexual assault violate Title IX, which forbids sex-based discrimination in education. Kamala Lopez, the executive director of Equal Means Equal, acknowledged at the time that this lawsuit was the first of its kind. She was right when she guessed it wouldn't be the last.