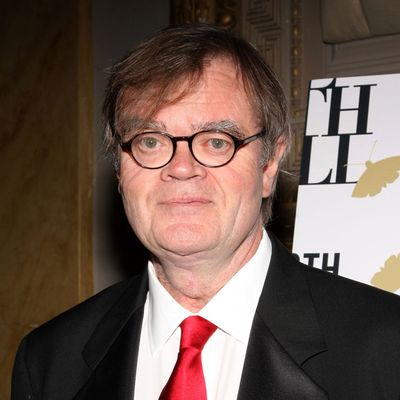 Garrison Keillor.
Photo: Will Ragozzino/Getty Images
Garrison Keillor, the former host of "A Prairie Home Companion," reportedly had a long history of making his female employees feel "mistreated, sexualized or belittled," according to a new investigation from MPR News.
Keillor's production company, Prairie Home Productions, produced his weekly variety show, but it aired on Minnesota Public Radio (MPR). In November, the management of MPR cut ties with Keillor, citing "inappropriate behavior" with a female colleague. He claimed he merely placed his hand on a woman's bare back.
The allegations against Keillor come as public radio hosts and executives at NPR and WNYC have also been accused of harassing female employees.
WNYC hosts Leonard Lopate, Jonathan Schwartz, and John Hockenberry have been accused of sexual misconduct and management has removed these men from their roles at the station.
Keillor told MPR he could not comment because he was negotiating with MPR about their business relationship. He wrote: "But beyond that. I don't think MPR News can report fairly on MPR management's chaotic and disastrous actions." Below, a few of the findings from MPR's investigation.
MPR reportedly received complaints about Keillor's behavior from a female employee.
MPR management did not initially respond to interview requests. But on Tuesday, MPR management told MPR News they decided to part ways with Keillor after one of his female employees claimed Keillor behaved inappropriately with her. According to MPR News, "The allegations included requests for sexual contact and descriptions of unwanted sexual touching."
Keillor allegedly had several romantic relationships with female colleagues, and the women claim these relationships impacted their careers.
According to MPR, Keillor dated two women at his office, and most of the office was aware of the relationshps. One woman who dated Keillor was sent a check for $16,000 and asked to sign a confidentiality agreement about him and his companies.
A former female employee sued Keillor for age and sex discrimination, claiming she was fired and replaced with a younger woman.
The woman, Patricia McFadden, claimed in her lawsuit that there was a "pattern and practice of abusive conduct." She also claimed she was paid less than her male colleagues.
A young woman who took a class with Keillor claims that he made a sexually suggestive remark to her when she applied for an internship.
According to the woman, who spoke with MPR, he said: "I'll have to suppress my intense attraction to you, but that can be done."
Keillor reportedly wrote an "off-color limerick" about a young female employee at the bookstore he owns, Common Good Books, and suggested she made him aroused.
According to reports, the limerick, below, was publicly posted in the bookstore.
A beauty who goes to Macalester — 

O, her face, her limbs, her ballast, her 

Tiny blue kilt 

And the way she is built 

Could make a petrified phallus stir.
Read the full investigation here.