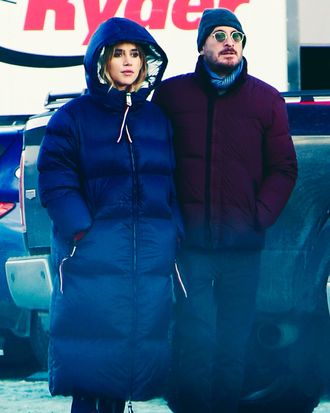 Darren Aronofsky and Suki Waterhouse at Sundance on Tuesday.
Photo: TheImageDirect.com
On Tuesday, the 26-year-old British model and actress Suki Waterhouse was photographed snuggling up to the 48-year-old newsboy-cap aficionado and auteur Darren Aronofksy at the Sundance Film Festival in Park City, Utah. New couple alert? It looks that way. The photos, published by the Daily Mail, show Waterhouse and Aronofsky smiling and sloshing through melted snow on the Park City sidewalks together for hours. In one image, Aronofsky is positioned so close to Waterhouse that he seems to melt into her enormous blue parka.
Is this really what Suki Waterhouse wants for the next eight-to-fifteen months of her life? Boyfriend Darren Aronofsky? I just don't know. Look at what Jennifer Lawrence has left after her recent breakup with the director: a starring role in a psychotically confused reimagining of the Book of Genesis that garnered zero Oscar nominations. And maybe some extra weed lollipops? I have no idea what Aronofsky is like interpersonally (a charming conversationalist … ?), but if it were me, I'd want that year of my 20s back.
Lucky for Waterhouse, there is time to reconsider. Why not have a different boyfriend for the next year or so? She's already dated an Oscar nominee (Bradley Cooper) and the star of Dirty Dancing: Havana Nights (Diego Luna), so the field is wide open. What about one of these guys?
1. Timothée Chalamet
2. A musician of any kind
3. Michael B. Jordan
4. Chris Pine maybe
5. The Sprouse twin on Riverdale
6. Riz Ahmed
7. Someone from her past
8. Daniel Radcliffe
9. Milo Ventimiglia if it doesn't work out with his girlfriend
10. A Mumford or son
11. A billionaire
Those are just some ideas to get started. Feel free to leave yours in the comments below or mention them to Suki the next time you see her.