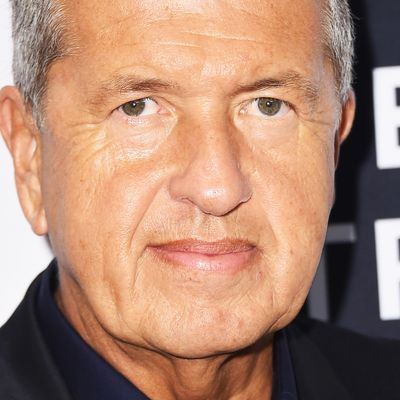 Photographer Mario Testino.
Photo: Michael Loccisano/Getty Images for Daily Front Row
After the New York Times published a disturbing report in which nearly 30 current and former male models and assistants accused renowned fashion photographers Bruce Weber and Mario Testino of sexual exploitation, Condé Nast immediately pledged to stop working with both for the foreseeable future. Since the story went up yesterday morning, brands have started to follow suit, with Stuart Weitzman, Michael Kors, and Burberry leading the charge.
So far, the boycotts have focused on Testino, who was accused of unwanted sexual advances by 13 male models and assistants. Wendy Kahn, chief executive and brand president of Stuart Weitzman, was one of the first to release a statement. Testino has photographed many of the brand's advertising images over the years, including the spring 2018 campaign.
"We are deeply saddened by the allegations in today's article," reads her statement in WWD. "We take these accusations very seriously and providing a safe and secure working environment where everyone feels respected is our foremost priority. As a result, we will not be working with Mario Testino for the foreseeable future."
A company spokesperson for Michael Kors Holdings Ltd. released a statement that reads, "We recently learned of the allegations concerning Mario Testino. In light of the seriousness of these accusations, we will not be working with Mr. Testino on future advertising campaigns."
Burberry, which last worked with Testino in 2016, released a statement to WWD that suggests the brand will no longer work with the photographer, though it is not explicitly stated.
A Burberry spokesperson said, "We take allegations of this nature very seriously. Burberry is committed to providing a just, safe and fair working environment and we have a zero-tolerance policy against any form of harassment, abuse or discrimination. The safety, security and welfare of the people with whom we work is a priority for Burberry and we seek to ensure all our partners adhere to our principles and policies and comply with all applicable laws and regulations."
According to Roman Barrett, Testino's former assistant who says the photographer rubbed his erection against him and masturbated in front of him, "Sexual harassment was a constant reality."
"[Testino] misbehaved in hotel rooms, the backs of cars and on first-class flights," he said. "Then things would go back to normal, and that made you feel gaslighted."