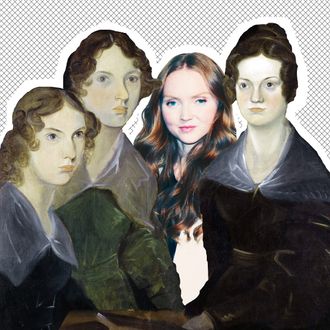 Anne Brontë, Emily Brontë, Lily Colë, Charlotte Brontë.
Photo: Getty Images
The Brontë Society is a group dedicated to running a museum about the Brontë sisters and "promoting the Brontës' literary legacy within contemporary society." Part of this mission seems to delightfully — but not all that surprisingly — entail being a group of messy bitches. Now, their latest bout of drama involves a supermodel, a disgruntled former member, an angry blog post, and invocations of Rita Ora's name.
It all started when model Lily Cole was appointed the society's creative partner for 2018, the same year it will be celebrating the 200th anniversary of Emily Brontë's birth. Author, Brontë expert, and former society member Nick Holland took to his blog to write a lengthy screed about why he was resigning. It's titled "Emily Brontë, Lily Cole and the Shame of The Brontë Society," and I urge you to read the entire thing because a meltdown like this should be savored.
"If you don't know Lily Cole, and you'd be in the majority, she is described as 'a model and social entrepreneur' (whatever that is)," he scoffs, before calling the decision to appoint her one made because of "nepotism." He also blames what he believes is the society's drive to appeal to youth, writing, "Being trendy is the ultimate aim, with the Brontës themselves relegated to the sidelines."
Holland also urges us to think of Emily Brontë, who he says would not have wanted this:
The central question should be, what would Emily Brontë think if she found that the role of chief 'artist' and organiser in her celebratory year was a supermodel? We all know the answer to that, and anyone who doesn't isn't fit to make the decision or have any role in the governance of the Brontë Society.
Finally, he resigns, but not before dragging Rita Ora into this:
It's best that I leave the society now, before they announce James Corden as the creative partner for 2019, a year in which Patrick Brontë is being remembered, and Rita Ora as organiser for Anne Brontë's celebrations in 2020.
Per the Bookseller, infighting has rocked the Brontë society for the past few years, which means their reality show is long overdue.