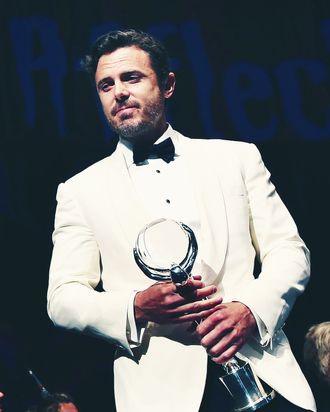 Casey Affleck.
Photo: Ronny Hartmann/Getty Images
Deadline reports that Casey Affleck, who won an Oscar last year for his performance in Manchester by the Sea, will not present at this year's ceremony. It's traditional for the previous year's Best Actor winner to present the Best Actress award, but Affleck has apparently decided to avoid the show altogether. Sources told Deadline that Affleck doesn't want to distract from the nominated actresses' performances and the larger #MeToo movement happening in Hollywood and across the country.
"Affleck's decision alleviates a potential sore point for the Academy, and also eliminates an awkward situation for the five nominated lead actresses," Deadline reasons. "Affleck's hope is to put the focus back on their performances."
Affleck's run for the Oscar last year was complicated when several media outlets resurfaced sexual-harassment allegations from his past. Affleck was accused of harassment by two women who worked for him on the 2010 Joaquin Phoenix vehicle I'm Still Here. Both cases were settled, but the allegations continue to trouble some in the industry. After the Harvey Weinstein scandal broke last fall, filmmaker Cameron Bossert launched a change.org petition to convince the Academy to disinvite Affleck from the Oscars. The petition ultimately earned over 19,000 signatures, but the Academy declined to make any public statement about it. Now, it seems, the issue has been resolved.
We've reached out to a rep for Affleck and will update this post if we hear back.
Update, 4:10 p.m.: Affleck's rep confirmed that Affleck will not attend the ceremony, but she declined to comment further.