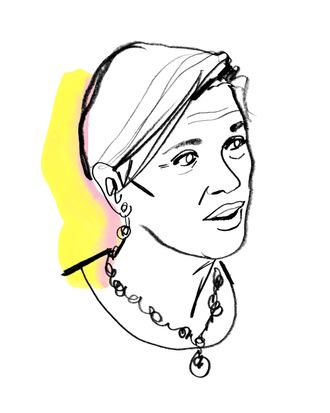 Illustration: Lauren Tamaki
It's been a challenging year for Cecile Richards, the president of Planned Parenthood. Since Trump's inauguration, she has fought every day to defend an organization that the current administration wants to shut down. Richards regularly speaks to the media, politicians, and donors about how women depend on Planned Parenthood for services ranging from cancer screenings to abortions. In 2015, she famously testified in front of Congress about federal funding for more than four hours. On the 45th anniversary of Roe v. Wade, the abortion-rights advocate shares how she gets it done.
On a typical morning:
My days aren't all the same because I'm on the road a lot. If I'm in New York I get up by 6 a.m., although if I'm going to the gym I get up by 5 a.m. I check email immediately and I read the morning news. I also talk on the phone with my daughter Lily, who works for Senator Kamala Harris and usually knows everything that's not in the paper.
My husband and I just adopted a little dachshund named Ollie, so I take him out for a walk. If I'm lucky, I am headed to the subway by about 7:30 a.m. I don't usually eat breakfast at home, because I just haven't figured out how to make the time to do that yet. When I get to the office by 8 or 8:30 a.m. I'm starving, and usually grab a croissant or something that I definitely do not need to eat. I'm very envious of all these people who have some kind of healthy smoothie breakfast, but that's not me.
On managing a busy schedule:
I sit down with Marisa, who runs my office, and go through the calendar for the day. Part of what I try to do in the morning is say, "What can we take off?" so I can make room for the other requests that have piled on. I cut 15 minutes off of every meeting and try and take two or three meetings off of my calendar for the week. One of the important things is hiring really awesome people — there are so many things that others are better suited to do than I am. I think as women we're used to doing everything ourselves. Learning to delegate has definitely helped me.
On constant travel:
I've spent way too many mornings and evenings on the Acela train — and I cannot eat another one of their cheese plates anymore. Anyone who's traveled with me will tell you I'm constantly looking for the next meal. Every evening, no matter how late we're done, I stop and have dinner with whoever I'm traveling with, relax a bit and think through the day.
On being type A:
I'm not a laid-back person. I sort of expect my days to be full and I get energy from other people. I don't like to waste a lot of time — well, actually, I don't like to waste any time. I like to do things the very, very best they can be done, which can absolutely drive some people crazy. God knows how my husband has stayed with me all these years.
On relaxing:
I don't really relax. I basically have one speed. I'm not a beach vacation person, or someone who's just dying to go to the spa and rejuvenate. I would much rather be on a plane to New Orleans — I recently went there with my three best girlfriends. We spent a weekend hearing all kinds of music and eating all kinds of food that was bad for us.
I took the kids to India in December. I love having those things to look forward to. This summer I went by myself to a sailing camp for two weeks in Maine. I loved it because once I got on the sailboat, I couldn't think of anything else. I like things where I have to learn something and it takes all of my attention.
On cooking:
So many nights I'm out speaking or attending a dinner event. I'm a vegetarian, and most of the dinners I go to involve some indescribable, hard-to-define piece of meat on your plate. I'll get home at 9 or 10 p.m. and cook up pasta quickly. I love to cook and I can't stand having cereal or something for dinner. I'm perfecting my cacio e pepe, and my kids and I started making our own pasta a couple of years ago. It's very therapeutic. When you're cooking it's hard to be doing other things — like answering emails. That may be why lying on a beach is not very attractive to me — if I was, I would totally be worrying about something.
On exercising:
There's a young guy, Alexis, who works as a trainer at the gym down the street from me. I owe my life to him. When I'm in New York, I try to see him two to three times a week. No matter how stressful my job has been, having him spend an hour with me in the morning just makes me feel stronger. I also run through Central Park. Exercising feels like the one thing I do that's 100 percent for me. When I was raising three kids, it was hard to find time to take care of myself. And I'm realizing now, later in life, how important that is.
On staying sane in the Trump era:
It's been a big challenge having a White House that has been totally focused on blocking women from coming to our health centers. The good news is that, though they said they were going to defund Planned Parenthood, we're still open around the country. For me, it's been an incredibly gratifying year because of the outpouring of support from folks. A lot of times people do say to me "Oh my god, how are you doing?" But I am so grateful to have this job right now.
Instagram brings me joy. That may sound crazy because I'm not a big social media person and Twitter depresses me, but I love to post photos of what I'm cooking, what Ollie is doing and the crazy things I see on the road. I feel like it's a way of saying something positive about what's going on, even in the midst of utter chaos. I'm really fortunate I've been married to my husband for more than 30 years and he is a rock. Even if I'm on the road, I check in with Kirk every day. Unlike me, he's very level and very chill.
On the importance of having a sense of humor:
I have to make jokes about what we're dealing with in Congress, because otherwise it's too depressing. One thing we're dealing with now is that this administration wants to quit funding birth control and instead, fund natural family planning, like the rhythm method. Natural family planning is fine for some folks, but most couples that use natural family planning, well, we call them "parents" at Planned Parenthood. You have to somehow get people to laugh at our circumstances.
On confidence:
My mom did not go to fancy schools, but she still became the governor of Texas in the early '90s. She said "Cecile, this is the only life you get and there are no do-overs. You have to take every chance and every opportunity you get and just think what is the worst that can happen?" And that really has helped me a lot. Young women come to me and say 'I'm thinking of applying for this," and then they have a list of reasons why they are not qualified. I never, ever have had a man come to me thinking he's not qualified. When I was asked to interview for this job at Planned Parenthood, I had a million reasons why I couldn't do it. I thought about how I had never run anything this big and how I had never worked at the organization before. But as Mom would have said, "What's the worst thing that could happen?" I did it, and here I am. Our regrets are about the things we never tried, or the times we took ourselves out of the running.