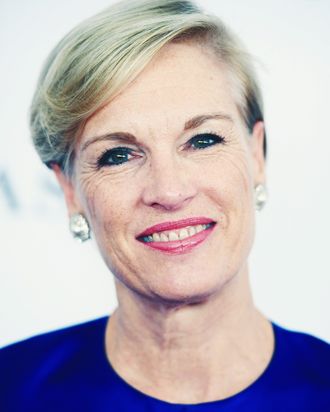 Cecile Richards.
Photo: Dimitrios Kambouris/Getty Images for Glamour
Cecile Richards is officially stepping down from her role as Planned Parenthood president later this year. Reports that this was imminent first came from BuzzFeed earlier this week and were confirmed by the New York Times and Planned Parenthood on Friday.
Richards has led the reproductive-health organization since 2006. As the Times pointed out, many have expressed hope that Richards — the daughter of the late, beloved Texas governor Ann Richards — also runs for office, though she denied that she's thinking about it. She did say that she plans to advise and support Democrats in the upcoming midterm elections. She also has a memoir, Make Trouble: Standing Up, Speaking Out, and Finding the Courage to Lead — My Life Story coming out in April.
"Planned Parenthood has been a trusted resource in this country for more than a century, and I will be leaving the organization well-positioned to serve and fight for our patients for a century more," Richards said in a statement provided by Planned Parenthood. "Every day we see the incredible power that grassroots voices can have — there has never been a better moment to be an activist … I've been an activist my entire life — and that won't stop any time soon."
It's yet to be announced who'll be taking over Planned Parenthood after Richards' departure.