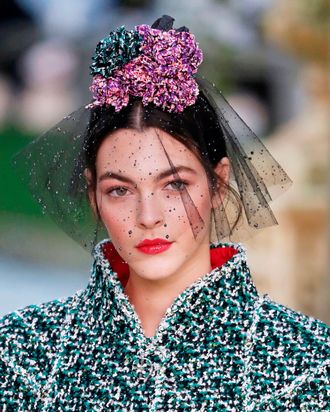 Photo: PATRICK KOVARIK/AFP/Getty Images
Who among us hasn't been long awaiting the demise of the ubiquitous flower crown? Luckily, Chanel has found a new way to wear flowers in our hair while simultaneously being celebratory, macabre, and anti-Coachella. Enter the flower veil.
Imagined by hairstylist Sam McKnight, a frequent Chanel collaborator, they were styled on top of loose, low ponytails. Makeup artist Tom Pecheux and his team added a glossy, juicy-looking coral lip. The veils paired with the couture dresses had a decidedly Ladies Who Lunch at the Grand Palais vibe and felt more Jackie Kennedy than Lana Del Rey. Still, we're willing to bet that they'll make an appearance at Coachella. But maybe just on Kaia Gerber.