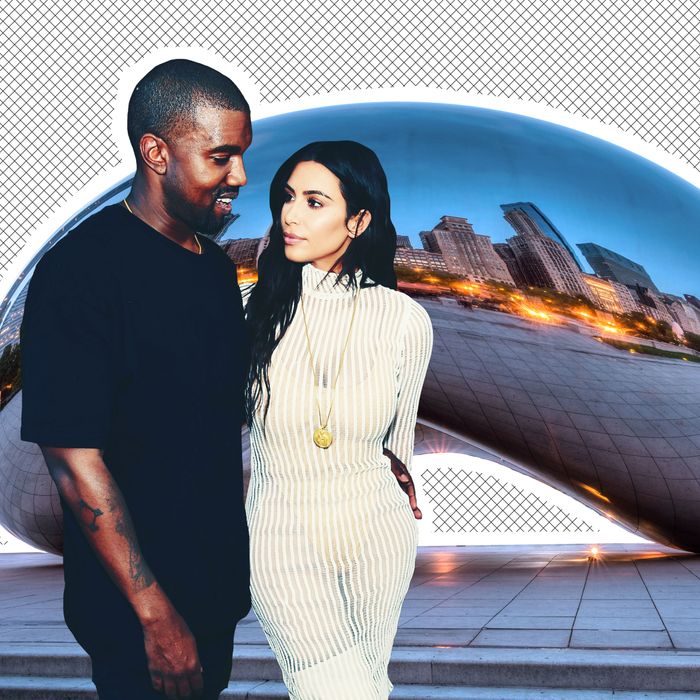 Before I begin, there's something you all should know about me. Under no circumstances will I ever make fun of a child — but rest assured I'll make fun of a child's name until I take my dying breath. We may now begin.
Chicago West. One tweet, one link, and one name shared by the house of West just hours ago. Chicago West is what Kimberly Noel Kardashian West and her spouse, Kanye Omari West, decided to name their third child, who's known the horrors of this world for just mere days. Without a middle name (known to us), Chicago joins Kris Jenner's army of grandchildren with nonsensical names that make you feel like you're actively having a brain aneurysm when trying to recall them all at once. It's as though the family has spent the past decade collectively learning what a noun is and made a proclamation that each person born must be called a place or a thing. It is written.
What really gets me is that Chicago seems to have been named for a nickname: "Chi." Which Khloé had to phonetically spell out in a tweet explaining the girl's name would be pronounced "shy" instead of "chai" (I'm assuming). In the normal world, this is like naming your child Catherine only to have every intention of calling her "Caity" in day-to-day life. I don't like either scenario.
I also feel personally and geographically victimized by Kim and Kanye naming their child Chicago. The city is close to my heart: Both my parents were raised there, I spend almost every major holiday in the Windy City (already a better name, TBH), and growing up, I was shipped to Chicago for three months out of every year. After spending so much time there, I can't unknow the city's nicknames — at best, it's called "Chitown," at worst, "ChiRaq." I'm concerned that despite Kim making it clear the baby will go by "Chi," Kimye has made their kid susceptible to the worst-case scenario nicknames.
Like, why, sweethearts? That's a full stop right there. Not in this house! This name is an attack on the good people of Chicago who pay taxes there. Not for those who are anxious about a baby growing into the name Donda.
As I sit with the name, I do confess that I'm losing my ability to hear what the proper pronunciation of Chicago is. It's already taking something away from me and affecting my mental health. Is it Shy-Ca-Go, Chic-Ca-Goo, or Chai-Cago!? Who knows anymore! Can the name even be assigned to a city if it's now legally assigned to one of the richest infants in the world? And even more terrifying, do I now …. like the name? As I forget its original meaning, those particular letters strung together seem sweet, in a sense. Am I'm conditioning myself to appreciate calling a human Chi and pronouncing it Shy? Is this what Stockholm Syndrome feels like? Please advise.