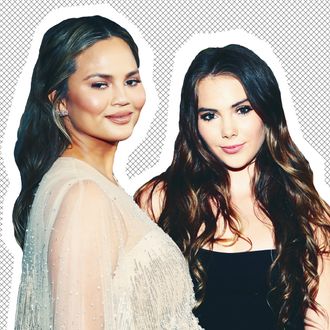 Chrissy Teigen (left), McKayla Maroney.
Photo: Getty Images
Olympic gymnast McKayla Maroney is one of more than 140 women who have accused former Team USA doctor Larry Nassar of sexual abuse. On Tuesday, after a report emerged that Maroney may face a $100,000 fine if she speaks at Nassar's sentencing because of a nondisclosure agreement, supermodel Chrissy Teigen offered to cover the cost.
Teigen tweeted a screenshot of a Daily Mail headline that claims the potential fine stems from an NDA Maroney signed as part of a $1.25 million settlement from USA Gymnastics in December 2016. "The entire principle of this should be fought — an NDA to stay quiet about this serial monster with over 140 accusers," Teigen wrote, "but I would be absolutely honored to pay this fine for you, McKayla."
Maroney, a member of the Fierce Five team that won gold at the 2012 London Olympics, alleged in October that she had been abused by Nassar, starting when she was only 13 years old. The gymnast filed a lawsuit in December, claiming USA Gymnastics had paid her to keep quiet about the alleged abuse. In a statement, USA Gymnastics then countered that it was Maroney's attorney Gloria Allred who requested confidentiality, according to CNN.
Later on Tuesday, Maroney thanked Teigen in a statement released by attorney John Manly:
"I'm not on social media right now, but I wish I was for this! I'm shocked by your generosity, and I just want you to know how much hope your words bring to all of us! I just can't get over the fact that someone I don't personally know is sticking up for me, let alone a strong women that I've looked up to for years!




Thank you Chrissy, you're so inspiring, and things are starting to change because of people like you! Just saying that was worth the decision to speak up regardless of a fine. You're heart pure gold. God bless. All my love, McKayla"
This post has been updated to include Maroney's statement.