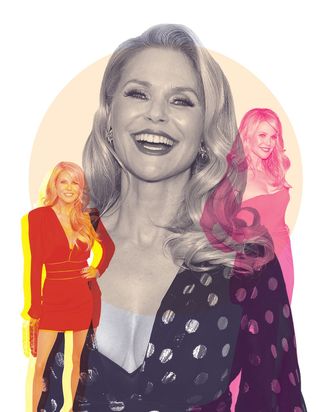 Photo-Illustration: Stevie Remsberg; Photos: Getty Images
Christie Brinkley stunned on the cover of Sports Illustrated's Swimsuit issue last year at age 63 — just one example of how taking care of her body continues to pay off. The wellness-focused supermodel has expanded her work beyond the runway as well. She has a skin-care line, a Prosecco wine label, and she recently partnered with two noninvasive beauty treatments (Ultherapy and Xeomin) that reduce the effects of aging. Plus, she was the muse behind Billy Joel's hit "Uptown Girl." Brinkley sat down with the Cut to discuss aging gracefully, cappuccino art, and why she never wants to stop moving.
How I start my morning: I leap out of bed, go downstairs, and make myself a big cup of coffee. I also make myself a big cup of hot water and squeeze some lemons into it. Sometimes I'll put in a little cayenne just to rev up the engine. For a while I was doing cappuccino art for my Instagram. If you go to #christiecappucino you can see it. So I have a cup I'm drinking while I'm drawing on the other ones. I'll drink like, five cups of coffee. When I finish that, I try to get exercise in.
How I like to sweat: As far as exercise goes, everyone always asks if I use the Total Gym and yes, I really do. But I also might go to a spin class or work with weights. I would say running is my favorite way to sweat, but I'm not really supposed to do that anymore because of injuries.
When I was doing [the musical] Chicago I noticed that the second you do any activity and you add your arms as though you're dancing, it revs you up. Whether it's walking down the beach and moving your arms like you're swimming, or picking up rocks and walking with them, you really start sweating and breathing heavily. The second you try to adjust those teeny changes, they make a huge difference. Some days the only thing I can get in is a seven-minute run on the Total Gym. Then while I'm brushing my teeth, I'm doing leg lifts. When I'm drying my hair, I do all kinds of squats.
What I eat for breakfast: Sometimes I'll just eat dinner leftovers because I can't eat anything sweet in the morning. I get that crash. It has to be some protein. I use the Bio-K pill, it's a kind of probiotic and they have a vegan and a dairy version. I take one of those, pour it over raw oats, and let it soak a bit while I get nuts and fruits.
I've always fed my children, my family, and myself a rainbow of color a day. For lunch, I go into greens and do a salad, then add a protein like a bean or nuts. Dinner is more of the same except maybe I'll put my vegetables on a bean pasta, rice, grain, or quinoa.
On nutrition: I became a vegetarian when I was about 13. I started reading books right away because I knew that I had to replace the protein and figure out what to do. Over the years I've been a vegan, I've been a macrobiotic, I've been a lacto-ovo. The one constant since the day I stopped eating meat was that I haven't eaten any red meat or fowl.
Fish has come and gone in my diet, there have just been times when if I didn't eat a fish, I wouldn't have anything to eat. If I'm in the Seychelles, everything has got fish tossed into it. It's natural there. I'm sort-of-ish vegan now. Sometimes my body just tells me that I need an egg. But I don't enjoy them, I kind of feel weird about them. The big thing that always gets me is mozzarella cheese. Life is too short. If there's juicy mozzarella cheese and there's a piece of pizza under it … why not?
What wellness means to me: For me, it's a lifestyle, it's a foundation for your future. Because your health is your greatest wealth. I really think that's something everybody needs to invest in.
How wellness changed for me:  My mom was a health nut back in the day when they literally thought you were a nut for shopping in health-food stores. I grew up in Malibu and our only candy was carob-covered rose hips. My mom had kind of convinced us all that we were allergic to everything else. When I became vegetarian, my whole family did. When you see your own parents getting sick, you want to push that off as far into the future as you can. I'm an older mom, and I wanted to make sure that I took good care of myself so I wouldn't seem like an older mom.
I raised all my kids as vegetarians. And at a certain point I had to give my son a bit of chicken because he was just so active. They all know to use sunblock and protect their skin and eat right and it's just natural to us. We don't really feel like we're denying ourselves, we feel like we're gifting ourselves good food and good energy.
The second you put yourself on a diet, I call that deny-eting. The only thing you can focus on is what you're denying yourself instead of "How can I fuel my life with good things?" You just have to think, "How can I get an edge?"
On the sun: We used to think when I was growing up, that the sun was a cure-all. If I'd wake up and have a sore throat my mom would say, "Go outside, let's bake it out of you." We thought the sun was so healthy, which is why I am so excited that they have ways to turn back the hands of time now.
In my first beauty book, I literally had a couple pages on how to get the best tan. One of the things I recommended (and I apologized in my other beauty book) was sitting near the edge of the water for maximum water reflection on you, keeping water droplets on you because they would magnify the sun, and rubbing some baby oil on you. Now we know it's the number-one culprit in premature aging.
On cosmetic procedures: It's a good time to not get old, it's a good time to choose how you want to age. Ultherapy is this therapy that can tighten up your skin, lift up your skin. I'm going to be 64 on my next birthday. That's a big number because of the Beatles song. I remember when that song came out thinking, "Oh when I'm 64, oh gosh, that's ancient." I tried Ultherapy and I thought it was really good. It uses ultrasound energy that the body responds to by creating new collagen to lift and tighten skin naturally. I did it on my chin, neck, and décolletage and I could really see the difference. I don't know of any injectables for that area.
I was treated with Xeomin in the frown lines between my brows. You also don't have to worry about coming out of there with an extreme change. I came out and I thought, I love the way my skin looks right now. My choice for aging gracefully is to dabble in treatments. To ignore science would be ridiculous. It's my pleasure to be able to let other people know about these things.
Best wellness advice: I tend to injure myself. After I did Chicago, I sustained quite a few injuries. I had a tear in my labrum, so I thought I'll rest it. That's the absolute wrong thing to do. The most important thing to do is to keep moving.
If you have an injury, diagnose it right away. Don't think it's going to heal by resting. Once you're over 50, don't stop moving because you'll rust. You have to grease the joints and keep moving. As long as I do that I feel great. If you start to hold still, they'll start acting up.
Christie's Wellness Picks
"In my coffee I'm experimenting with all different kinds of coffee creamers, like almond or coconut milk, trying to find the perfect thing. I love So Delicious' hazelnut coffee creamer, but there's an awful lot of sugar in that."
"I just got matcha so I've been doing the green tea matcha things. It's kind of fun and I've been trying it with maple syrup and with stevia."
"I do use that as my go-to thing that stretches and strengthens."
If you buy something through our links, New York may earn an affiliate commission.