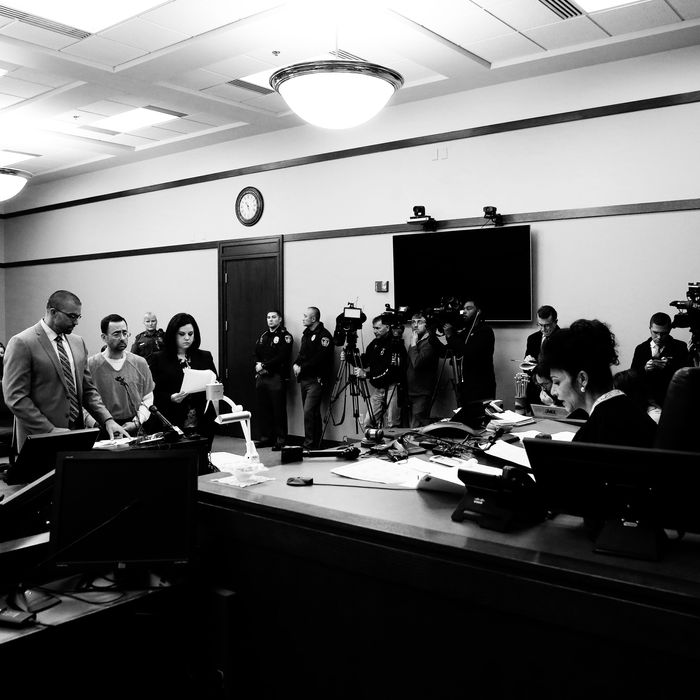 The court room during the hearing for Larry Nassar, the former USA Gymnastics doctor who pleaded guilty in November 2017 to sexual-assault charges.
Photo: JEFF KOWALSKY/AFP/Getty Images
Just days after former USA Gymnastics doctor Larry Nassar was sentenced to up to 175 years in prison after more than 140 women accused him of sexual abuse, The House Energy and Commerce Committee will hold a hearing on the aforementioned misconduct, as well as sexual-abuse reports in USA Swimming and Taekwondo.
Multiple members of Congress called for an investigation into USA Gymnastics, including New Hampshire senator Jeanne Shaheen and three members of Congress who represent Michigan. In a statement reported by the Washington Post, The House committee announced their decision to hold the hearing.
"The abhorrent abuses associated with Dr. Nassar's case and the allegations by U.S. Taekwondo athletics and U.S. swimmers are disgusting and outrageous, and raise serious concerns about protecting athletes from abuse and mistreatment in organized sports," said Representative Greg Walden, the House committee chairman. "These organizations must have mechanisms in place to ensure complete oversight and prevent such abuses from occurring. As we move forward in gathering the facts, this committee intends to hold a hearing in order to investigate these critical issues further."
While Judge Rosemarie Aquilina may have signed Nassar's "death warrant" earlier this week, the former doctor isn't the only one from USA Gymnastics to face allegations. In August 2016, a damning investigation by the Indianapolis Star reported that the sport's governing national body had failed to investigate dozens of sexual-abuse allegations against its coaches.
And Gymnastics isn't the first Olympic group to be rocked by a sexual-abuse scandal. In November 2017, the Chicago Tribune reported that 290 coaches and officials tied to USA Olympic groups have been accused of sexual misconduct since 1982. During the 2016 Rio Olympic Games, USA Taekwondo reportedly allowed two men to travel to Brazil while under investigation for sexual misconduct.
According to the Post, the House committee sent letters to USA Gymnastics, the USOC, USA Swimming, USA Taekwondo, and Michigan State, instructing them to prepare to brief Congress on outstanding sexual-abuse reports.
"The abhorrent abuses associated with this case are outrageous, and raise serious concerns about your organization's ability to oversee your sport and protect your athletes from abuse and mistreatment," the committee's statement reads.