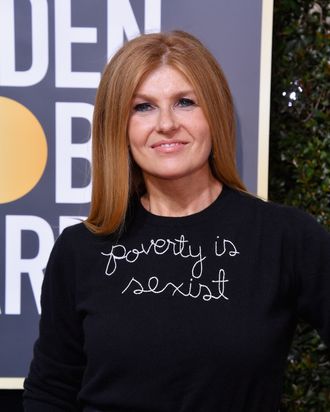 Connie Britton.
Photo: Getty Images
Among the looks on the all-black Golden Globes red carpet tonight, one person decided to skip the standard gown. Actress Connie Britton chose a distinctive graphic sweater that had Twitter take notice.
The actress chose local New York City cashmere brand Lingua Franca's design that featured the words "Poverty is sexist" stitched across the chest. The origins of the top and the slogan? It's a collaboration with One.org, an international advocacy group devoted to fighting extreme poverty, especially in Africa.
Britton has long been a champion of the organization. Back in March she partnered with Robin Wright to deliver an open letter that demanded action on the global crisis in girls' education in front of the United Nations. She also took part in #GirlsCount alongside 2 Dope Queens' Jessica Williams and Phoebe Robinson in addition to starring in One.org's public service announcement against ebola.
This isn't the first time Lingua Franca has gotten involved in political statements. Fittingly, designer Rachelle Hruska also has partnered up with Time's Up on a series of sweaters that retail for $380, with $100 of each purchase going towards the legal defense fund.
Says Hruska of this red-carpet moment, "That we have any part of this moment in history [shows that] everyone has a voice. We are so grateful to be using ours, even if through silent stitching to drive conversations and change. 'Poverty is sexist' is more than a slogan: It's a fact of life for hundreds of millions of girls and women around the world."