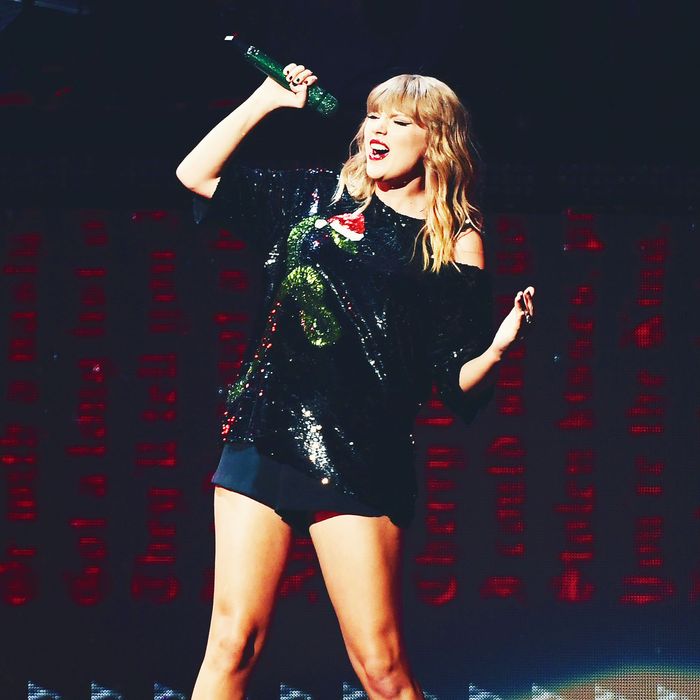 Taylor Swift.
Photo: ANGELA WEISS/AFP/Getty Images
David Mueller, the radio DJ who groped Taylor Swift back in 2013, will be returning to radio today under the name, "Stonewall Jackson."
You can tune into to hear Mueller (though, why would you?) on KIX 92.7 FM in Greenwood, Mississippi, a far cry from his former job on the radio in Denver, which he lost back in 2013 after he grabbed Taylor Swift's butt during a meet-and-greet.
Larry Fuss, the president and CEO of Delta Radio Network, had no issue hiring Mueller, who was convicted of assault and battery against Swift after the jury unanimously found him guilty during the trial last year.
"When he explains the Taylor Swift incident, he's either the world's best liar, or he's telling the truth," Fuss told Radio Ink. "Having heard him tell the story, I'm inclined to believe him and the rest of the staff seems to believe him as well. The evidence was rather inconclusive, but the jury was apparently star struck with Taylor Swift and found in her favor."
Fuss reached out to Mueller and offered him a job not long after the trial, which ended in a symbolic $1 settlement.
"Regardless of what he may or may not have done, does he really deserve to be banned from radio for life? Fuss said. "On top of that, he has lots of talent and will sound great on KIX-92.7."