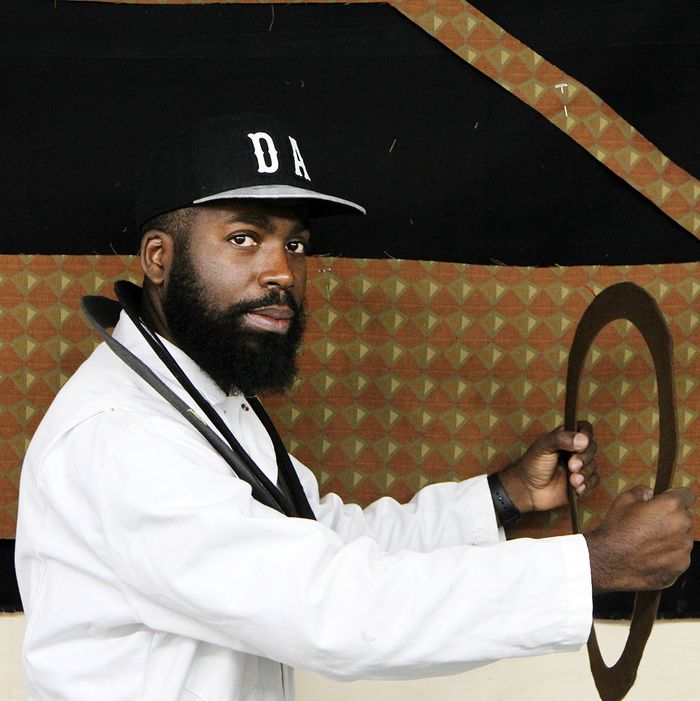 Photo: Terrence Jennings; Courtesy of the Museum of Arts and Design
From 1936 to 1967, during the Jim Crow era and the rise of luxury travel, The Negro Motorist Green Book was the AAA version of a travel guide for black Americans. For a new show at the Museum of Arts and Design in New York, multimedia artist Derrick Adams recreated a Utopian version of the Green Book, drawing from his research, imagination and inspiration from Jacob Lawrence's Migration Series.
The first version of the Green Book was published by a savvy Harlem postal worker, Victor Hugo Green, with 15 pages of New York–area listings recommended by his fellow postal workers. By the 1960s, it had expanded to nearly 100 pages covering all 50 states and other countries. Adams, who is known for his explorations of the black experience, created a series of 50 mixed-media collages, wood panels, and sculptures that depict the pursuit of the American dream in the face of obstacles. In an interview, he explained that the Green Book underscored disturbing realities of civil rights at the time, while also giving black families similar opportunities of leisure and freedom.
"This directory created by Mr. Green is the perfect example of the ability to understand the climate you're living in, the dangers of living in it, and to try to create a solution that will allow people to still prosper and to succeed," he said. "It's really about luxury, about getting away, about pampering yourself, about parties and clubs."
Starting in March, the show will be accompanied by the interactive exhibit "Unpacking the Green Book: Travel and Segregation in Jim Crow America," which will explore the Green Book's history in depth. "Derrick Adams: Sanctuary" will be on view until August at MAD. Scroll for a preview of the show.