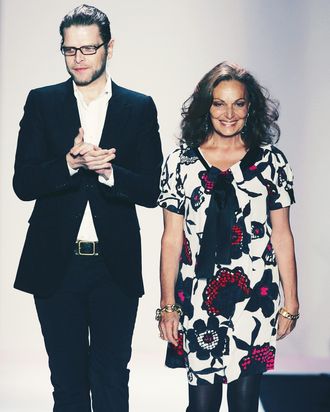 Nathan Jenden and Diane von Furstenberg.
Photo: Mark Mainz/Getty Images For IMG
On Thursday, Diane von Furstenberg announced that Nathan Jenden will be DVF's new chief design officer and vice-president of creative. Jonathan Saunders resigned as chief creative officer of the brand in December 2017.
This is is the first major designer appointment following a long year of departures. It's actually a homecoming for Jenden, though. He worked at DVF for ten years during what some call the brand's "glory days," before leaving to start his own eponymous label in 2011. Most recently, he was also working as the creative director of Bebe.
"It is with joy and pride that I look forward to welcoming Nathan back at DVF," Furstenberg wrote in a statement. "Nathan is an extremely talented and technically skillful designer who also has a great gift at surrounding himself with young, emerging talent. He totally embraces the DVF woman and the brand enjoyed its greatest commercial success during his tenure."
Jenden added:
I see DVF as being more relevant today than it ever was in its message of self-empowerment while being dynamic and modern. I want to give the DVF girl what she wants when she wants it, and with the joie de vivre and sense of purpose that epitomizes Diane, DVF the brand and the spirit of women today. And most importantly of all I want to make great clothes that resonate with women.
Jenden's first DVF collection will be fall/winter 2018, to be shown in February. We can expect both a revival of early-2000s DVF as well as a new beginning.