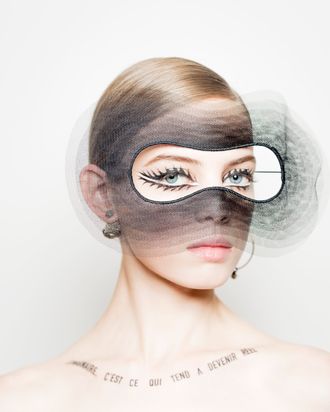 Photo: Vincent Lappartient
Your dolphin tattoo from spring break may have special meaning. But at yesterday's Dior Couture show, designer Maria Grazia Chiuri and makeup artist Peter Philips used the beauty look and tattoos (of the temporary kind) to make a statement about freedom and love. In a show inspired by Surrealism, Philips, Dior makeup's creative and image director, drew from the work of Salvador Dalí, Man Ray, and German photographer Grete Stern.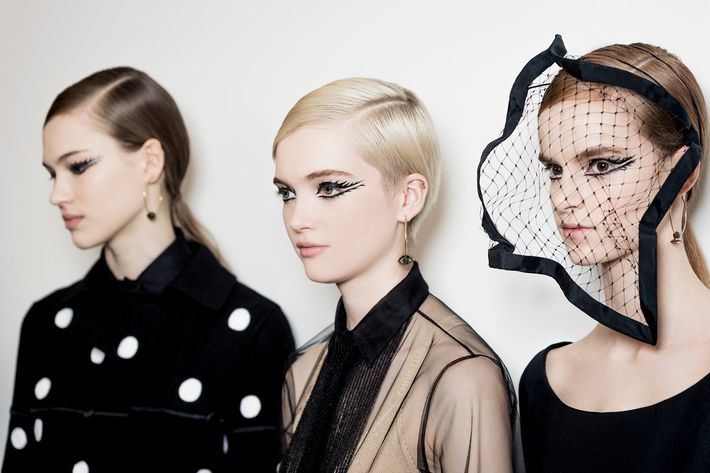 Using a black eyeliner (Diorshow on Stage Liner out in June 2018), Philips created a eyeliner with fine, curved notches that extended to the edges of the eye in an upward swoop like a vine. He added a line of nude liner (Diorshow Khôl Beige) in the inside bottom lash line to open up the eye. Milliner Stephen Jones created the lace masks, which used tiers of sheer lace to create the effect of tunnel vision. Philips then worked with Chiuri to handpick phrases and words by André Breton (the founder of Surrealism) for tattoos. Words and phrases like liberté (liberty), l'amour fou (crazy love), and l'imaginaire, c'est ce qui tend à devenir réel (imagination, it's what tends to be real) wound across the models' fingers, ears, collarbones, and necks. See more photos of the surreally beautiful makeup below and hope that these tattoos get produced for actual sale.