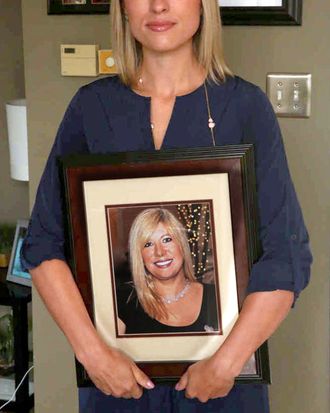 Kim Pack holding a photo of her late mother, April Kauffman.
Photo: Vernon Ogrodnek/The Press of Atlantic City via AP
In May 2012, 47-year-old radio host April Kauffman was found dead of multiple gunshot wounds in the bedroom of her Linwood, New Jersey, home. Nearly six years later, her husband, Dr. James Kauffman, has been charged in relation to her murder.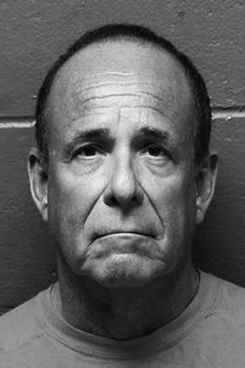 The Washington Post reports that Kauffman, 68, and his co-conspirator, Ferdinand Augello, 61 were arrested on Tuesday and charged with first-degree murder. Prosecutors say the endocrinologist was involved in a opioid trafficking ring with the Pagan Outlaw Motorcycle Gang. In the period before her death, April was attempting to divorce James and reportedly threatened to expose his illegal drug activities.
Here's how the ring is said to have operated:
Prosecutors said the racketeering operation involved Kauffmann giving free pain medication prescriptions to people sent by Augello, who would receive about $1,000 per prescription and a number of pills once they had been filled. Those without insurance were required to pay $100 per visit, prosecutors said.
When it came to actually killing April, Kauffman and Augello allegedly paid $20,000 to Francis Mulholland, the cousin of a Pagan member, to commit the deed. He died of an overdose in 2013.
Kauffman remarried and continued practicing medicine after his wife's death. Then, in June, Kauffman was arrested on a weapons charge after he waved a gun at officers searching his office. His practice was subsequently shut down.
April's daughter, 35-year-old Kimberly Pack, has long believed that her stepfather was behind her mother's murder. "I have been waiting patiently for justice, and today I was lucky enough to be granted justice," she told reporters. "I think for the first time, today I can actually breathe."
In addition to the murder charge, Kauffman faces charges of first-degree racketeering and leading a narcotic trafficking organization.