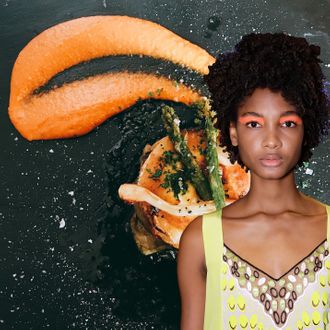 According to the images on my Instagram explore page, we seem to be in the throes of a new makeup trend. Across look books and editorials and all over the widely influential beauty Instagram account v93oo, makeup professionals and artistic model types have been experimenting with a new take on eye makeup: a swooped line drawn in the crease above the eye, often rendered in shades of pastel.
At the SS18 Rochambeau show, makeup artist Erin Parsons created an especially offbeat, graphic take on the swoopy eye crease. And while she wrote that the makeup was inspired by artist Aaron Curry, there seemed to me one very clear point of origin: elegant swishes of sauce as seen on Top Chef. Swish swish, "I'm not your bitch, bitch."
Makeup artist Grace Ahn, who has worked with the likes of CR Fashion Book and W, has used this style of eyeliner in multiple editorials. She confirmed that my Top Chef comparison is not completely insane. "Plating is such an artistic form of cooking," she said. "It's seen all the time where [chefs] take a smudge or swish of a sauce and move it against the contour of the roundness of the plate. It's exactly the same as that type of eyeliner."
On Top Chef, currently airing its 15th season, the chefs love to include lovely swirls of sauce that curve around the plate — just like the way you might swish an angular brush around an eyeball. The sauce swish is essential; the contestants are always running around saucing at the last second, praying not to get the stink eye from head judge and masc icon Tom Colicchio.
Food editor Khushbu Shah says this sauce style is associated with food movements that emphasize aesthetics. "Chefs have been fancy forever," she wrote in an email. "But they started relying on squeeze bottles and dots and swishes of sauces with the rise of French Nouvelle cuisine. As part of this movement, there was a departure from heavier, classic dishes. Instead, all the food was much more delicate and a lot lighter. There was also a new emphasis on presentation, so people started decorating plates with swishes and dots of sauces."
On Top Chef, there are often two branches of contestants: the down-home types who believe in elevated comfort food, and the fine-dining types who value high-end presentation just as much as flavor. This split could be seen as reflective of the food world at large: for much of the 2010s, the trendiest restaurants in cities like New York and L.A. were meat-heavy riffs on gastropubs, places that refused to take reservations and were covered in strings of Edison bulbs.
But now, there seems to be a move back towards fine (expensive!) dining with more delicate dishes resplendent with sauce swishes. New York Magazine food critic Adam Platt's "Where to Eat 2018" includes places like The Grill and Eleven Madison Park, where presentation is incredibly delicate.
The push-and-pull between down-to-earth style and a more dramatic look exists in the beauty world, too. While no-makeup makeup empire Glossier continues to dominate, the swoop look shows a desire to play just a little bit more.
It's a minimalist take on a much more over-the-top look: the 1960s eye, which incorporates a line drawn in your eye crease for an extra-hooded effect, along with cat-eye eyeliner and various shadows and false lashes. The style is classic, a signifier for any part of the '60s that didn't explicitly involve hippies — think of the famous Bert Stern photo of Jean Shrimpton, or the Charlotte March images of Donyale Luna, or Sharon Tate in Valley of the Dolls. The luminous Julianne Moore, a woman so beautiful that she probably bathes in the blood of undefiled vegans, wore a particularly fabulous version in Tom Ford's A Single Man.
"I think now is the best time to wear this look," said Ahn. "Wearing makeup is a trend again. Experimental makeup that was mostly just used for editorial or runway is now being implemented in everyday wear. It's not only wearable, it's super trendy."
So it's certainly the time to wear it, before "super trendy" becomes "omnipresent at the Teen Choice Awards." And if people inquire about your swish, tell them you were inspired by Top Chef. It feels a lot more inspired than than looking at old Tumblrs full of Diana Vreeland's Vogue.