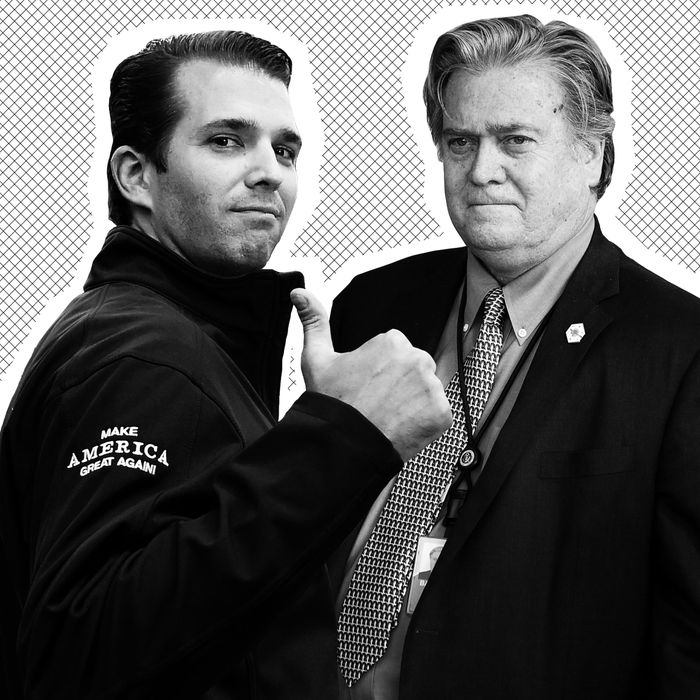 Donald Trump Jr. and Steve Bannon.
Photo: Getty Images
Let's take a journey back to a far-away, long-ago place. It's July 2017, and White House communications director Anthony "The Mooch" Scaramucci has been fired after only 11 days, in part because of a wild, expletive-filled phone call he made to New Yorker reporter Ryan Lizza in which he said, among other things: "I'm not Steve Bannon, I'm not trying to suck my own cock. I'm not trying to build my own brand off the fucking strength of the president. I'm here to serve the country."
Fast forward to today, and Donald Trump Jr. is saying The Mooch wasn't that far off. On Wednesday, the First Boy retweeted one of Scaramucci's tweets in which the former communications director said: "I said what I said in the Summer take out the expletives and pay closer attention. Btw, @realDonaldTrump is doing a great job."
"Minus the foul language The Mooch pretty much nailed it," Don Jr. agreed.
Earlier that day, The Guardian published a story about the upcoming book by Michael Wolff about the Trump administration, in which he says Bannon reportedly called Donald Trump Jr.'s meeting with a Russian lawyer "treasonous," and said there was "zero chance" Trump senior didn't know about it.
As upset as Don Jr. may be about those accusations, the real losers here are the rest of us, who have once again been cursed by the mental image of Steve Bannon trying to fellate himself.