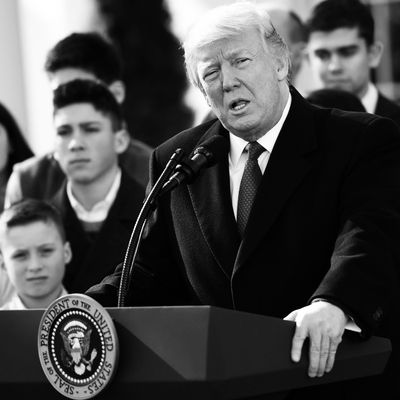 Donald Trump during his March for Life speech.
Photo: BRENDAN SMIALOWSKI/AFP/Getty Images
Every year since 1974, anti-abortion advocates have taken to the streets of Washington, D.C., on or near the anniversary of Roe v. Wade for the March for Life. Last year, Vice-President Mike Pence notably became the highest-ranking U.S. official to ever speak at the march. (His wife, Karen, introduced him by saying, "I have never met anyone who has more compassion for women.") And on Friday, Donald Trump became the first sitting U.S. president to directly address marchers — while other Republican presidents have done so over the phone, he did so via satellite video from the White House Rose Garden.
He began by calling the 45th annual March for Life "very, very special" and "a movement born out of love."
What followed was a mixture of typical anti-choice rhetoric:
"You love every child, born and unborn, because you believe every life is sacred, that every child is a precious gift from God." 
The usual Trumpisms:
"Tomorrow will mark exactly one year since I took our oath of office and I will say, our country is doing really well. Our economy is perhaps the best it's ever been. You look at the numbers, you look at the companies pouring back into our country."
And a combination of the two:
"Americans are more and more pro-life, you see that all the time."
The president also specifically criticized late-term abortions — taking care to mention that China and North Korea both allow them — and boasted about two new changes made by his administration: ensuring protections for anti-abortion health workers and revoking Obama-era protections for abortion providers.
Back in a 1999 interview, Trump called himself "very pro-choice," but during his presidential campaign, he took on a firm anti-choice stance. Before his speech today, the VP introduced him as "the most pro-life president in American history."