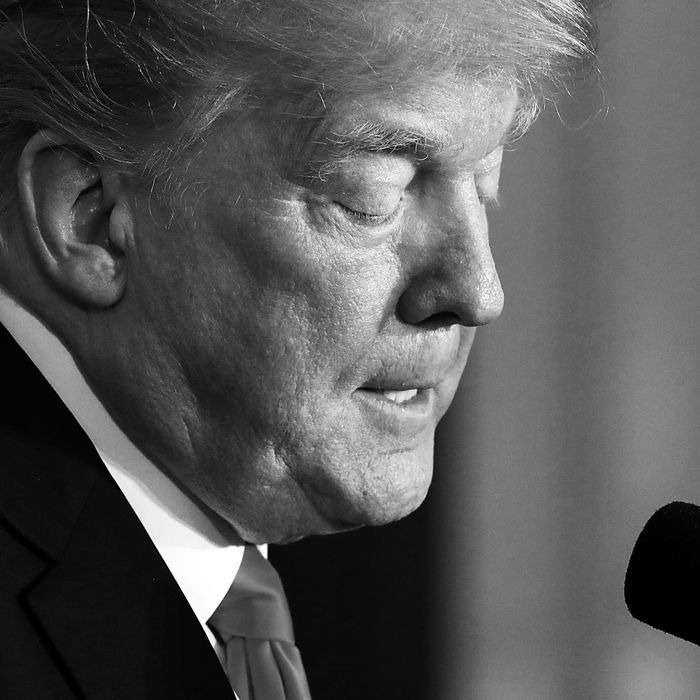 Donald Trump.
Photo: Chip Somodevilla/Getty Images
Donald Trump may be able to ignore the ongoing national conversation about sexual misconduct, of which he's been accused nearly 20 times, but he'll be forced to face it at his upcoming State of the Union. According to a lawmaker's aide, some Democrats are inviting victims of sexual assault as their plus-ones to the president's address, NBC reports.
The aide works for Representative Lois Frankel, the head of the Democratic Women's Working Group. Just last month, the group called for a Congressional investigation into the misconduct allegations against Trump.
And this won't be the Democratic Women's Working Group's first attempt at making a political statement at one of Trump's speeches. Last year, all members agreed to wear white — a nod to the suffragettes — during Trump's first address to a joint session of Congress.
Along with bringing survivors of sexual assault to this year's State of the Union, the women in the working group will be coordinating their clothes again. This time around, though, their outfits won't be white. Inspired by celebrities at the Golden Globes, the women are planning on wearing black to the address on January 30.
"This is a culture change that is sweeping the country and Congress is embracing it," California Representative Jackie Speier told The Hill.