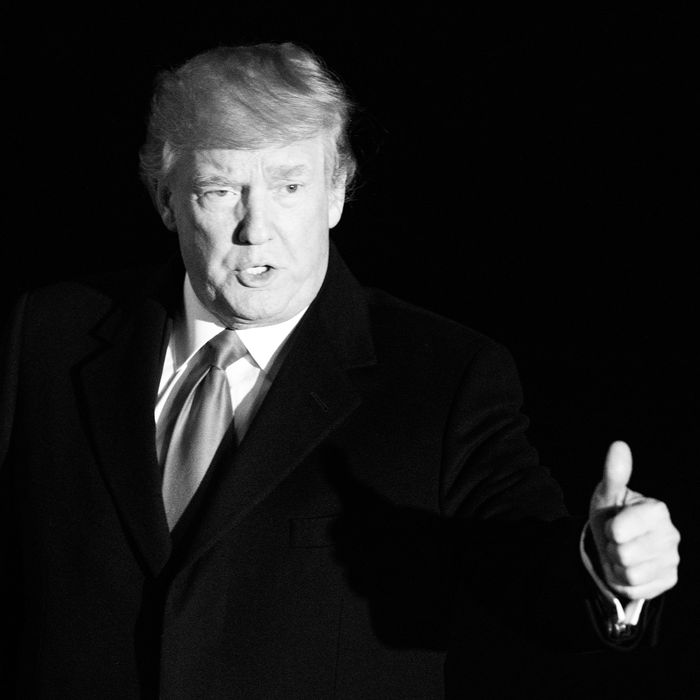 Donald Trump.
Photo: Pool/Getty Images
Unlike some people, Donald Trump has high expectations for his State of the Union — I'm sorry, Uniom — speech tonight.
According to the Hill, during a pre-speech lunch with news anchors, the president said, "If I could unite the country, I would consider it a tremendous success." A lofty goal, to be sure. Not only that, Trump said he hopes to do so without a major event like a terror attack or a natural disaster.
After the lunch, PBS NewsHour's White House correspondent Yamiche Alcindor tweeted that the president told reporters:
I would love to be able to bring back our country into a great form of unity. Without a major event where people pull together, that's hard to do. But I would like to do it without that major event because usually that major event is not a good thing.
While Trump preaches his message of unity, the people around him will remain deeply divided. Many democratic lawmakers will be wearing black in solidarity with the Time's Up and #MeToo movements, and several Republican women have announced they will wear red, white, and blue to show their support for the military. About a dozen congresspeople (and one Supreme Court Justice) are boycotting the event altogether.
As Representative John Lewis told MSNBC's Katy Tur: "I cannot, in all good conscience, be in a room with what he has said about so many Americans."