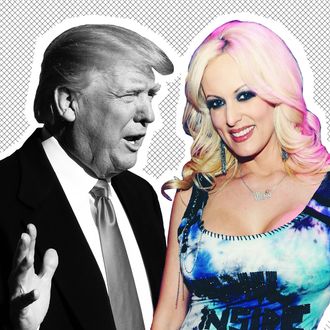 Donald Trump and Stormy Daniels.
Photo: Getty Images
On Friday, InTouch Weekly finally published its highly anticipated 2011 interview with Stormy Daniels (also known as Stephanie Clifford), in which the adult-film actress says she had an affair with Donald Trump that started in 2006. She also provided incredibly salacious details about her time with the now-president (just five years before she was allegedly paid $130,000 to keep quiet). From how they first started hooking up to Trump's bizarre fear of sharks, here are the most shocking allegations.
Their first night together, Trump tried to seduce her with a magazine cover. Daniels told InTouch her affair with Trump began after they met at a celebrity golf tournament in Lake Tahoe. He invited her to his hotel penthouse that night, she said, and when she arrived he was wearing pajama pants and insistent on showing her a recent publication. Daniels said, "He just kept talking about this magazine that he was on the cover of, like, 'Look at this magazine, don't I look great on the cover?'"
Trump thinks his power comes from his hair. Daniels told InTouch that when she asked Trump about his hair, he allegedly replied, "You know, everybody wants to give me a makeover and I've been offered all this money and all these free treatments." He then told her that he was worried he'd lose his power and his wealth if he cut or changed his hair.
The first time they had sex was extremely bland. Daniels said the sex between her and Trump was "nothing crazy." She added, "He wasn't like, chain me to the bed or anything. It was one position. I can definitely describe his junk perfectly, if I ever have to. He definitely seemed smitten after that." According to Daniels, they did not use protection.
He asked for her autograph after sex. Daniels said Trump had her sign one of her DVDs.
Trump allegedly called her every ten days. The adult-film star said Trump would call her regularly — but always from a blocked number. He'd also, she said, always refer to her as "honeybunch" during their conversations.
He's terrified of sharks. One night, Daniels said, she met up with Trump while he was watching Shark Week. "He was watching a special about the U.S.S. something and it sank and it was like the worst shark attack in history," she told the magazine. "He is obsessed with sharks. Terrified of sharks. He was like, 'I donate to all these charities and I would never donate to any charity that helps sharks. I hope all the sharks die.'"
Trump told Daniels that her nose was like an eagle. He allegedly told Daniels he "loved" her nose and first compared it to "a beet," before elaborating in a different direction, "It's majestic. It's a very smart nose, like an eagle."
He compared her to his "beautiful" daughter. "He told me once that I was someone to be reckoned with, beautiful and smart just like his daughter. She is smart and beautiful, so I guess that's a compliment," Daniels said.
Check out the full interview here.