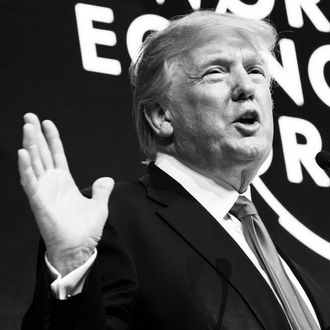 Donald Trump.
Photo: FABRICE COFFRINI/AFP/Getty Images
In an age of constant screen time, it's generally good practice to avoid looking at your phone in bed in the morning or as you're getting ready to fall asleep at night. But who among us hasn't fired off a tweet or twenty while still under the covers? Even Donald Trump has, as he admitted in an interview with Piers Morgan that aired on Sunday. (It should be noted that the difference between Trump and the rest of us is that our angry morning takes don't have the potential to kick off a nuclear war.)
The radical transparency about the President's Twitter habits came among other equally shocking ones, like that he doesn't consider himself a feminist.
Here's exactly what he told Morgan when asked the time and location of his tweets:
"Well, perhaps sometimes in bed, perhaps sometimes at breakfast or lunch or whatever, but generally speaking during the early morning, or during the evening I can do whatever, but I am very busy during the day, very long hours. I am busy."
In related news, Trump reportedly works from 11 a.m. to 6 p.m. He also reportedly gets into bed around 6:30 p.m. and eats cheeseburgers while watching three different screens, so maybe excessive Twitter time is the least of his problems in that department.