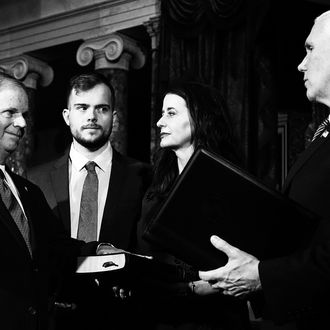 Doug, Carson, and Louise Jones; Mike Pence.
Photo: Alex Wong/Getty Images
On Wednesday, Democrat Doug Jones was sworn in as Alabama Senator after his upset win over alleged child-molester Roy Moore. His gay son, Carson Jones, stood at his side while Vice President Mike Pence — who Rachel Maddow once called "the most vociferously and consistently anti-gay statewide elected official in the country" — administered the oath of office. In a photo taken of the moment, Carson can be seen giving Mike Pence some serious side-eye.
Carson posted it to his Instagram — @thedapperzookeeper — with the captions "#dougjones #swearingin #washingtondc #capitol #wemadeit" and, crucially, "#nocaptionneeded."