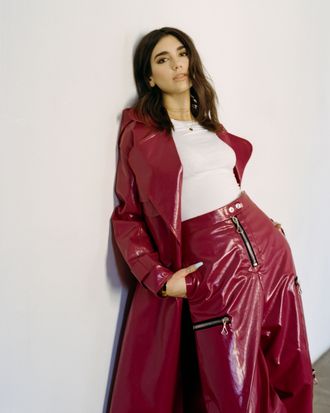 Dua Lipa styled by Lindsay Peoples Wagner.
Photo: Andre Wagner
It's not easy to make colorful, oversize pantsuits look cool (we've tried), but musical artist Dua Lipa pulls it off in her new music video for "IDGAF," which dropped on Friday.
The 22-year-old English singer, songwriter, and model made her debut in 2015, but it wasn't until last year that she really started getting mainstream attention worldwide. Her 2017 hit "New Rules" won Best Single at the BBC Radio 1's Teen Awards and has over 500 million Spotify streams to date. Lipa also won Best Look at the MTV Europe Music Awards that same year.
The "New Rules" music video, which came out in July, solidified what seems to be Lipa's signature: surrounding herself with an all-female dance crew dressed in a rainbow of monochrome outfits. For "IDGAF," Lipa's ladies are back — this time wearing matching purple and red pantsuits with crop-top button-ups underneath. Together, they dance in formation under the glow of James Turrell/Dan Flavin–esque lights with their hair slicked back, mouthing lyrics like, "Save it, get gone, shut up."
Essentially, "IDGAF" is the all-female, boss bitch answer to Drake's "Hotline Bling." Watch the full video below.