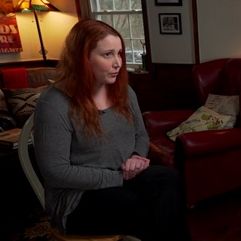 Dylan Farrow and Gayle King.
Photo: CBS
Dylan Farrow is giving her first televised interview this Thursday, January 18, on CBS This Morning. In 1992, when Farrow was 7 years old, she accused her father, Woody Allen, of molesting her. Allen was never criminally charged with sexual abuse and has denied the allegations. Farrow has maintained her allegations as an adult, with a 2014 essay about the assault in the New York Times and last December in the Los Angeles Times.
"I am credible, and I am telling the truth, and I think it's important that people realize that one victim, one accuser, matters," Farrow tells interviewer Gayle King. "And that they are enough to change things."
In recent weeks, several actors who appeared in Allen's films have expressed regret over working with the director. Mira Sorvino (Mighty Aphrodite) penned an open letter to Farrow, writing, "I believe you." Lady Bird director and writer Greta Gerwig, who had a part in To Rome With Love, told the New York Times, "If I had known then what I know now, I would not have acted in the film." Also, three cast members from Allen's upcoming film A Rainy Day in New York, Timothée Chalamet, Rebecca Hall, and Griffin Newman have all announced that they are donating their salaries to causes such as Time's Up and RAINN.
The interview with Farrow was filmed in her Connecticut home on Monday. A preview for the conversation will debut tomorrow on CBS This Morning.