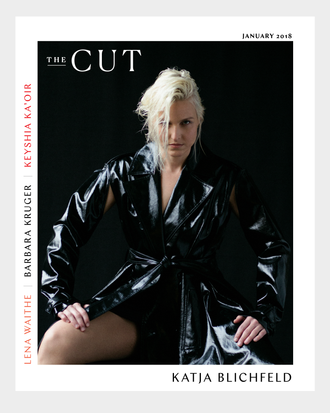 I know many grumps who refuse to make resolutions based on the arbitrary date of January 1. I guess I can understand that mentality (even though I suspect those same people hate Valentine's Day and probably kick puppies). True, there's a banality to holiday excess followed by repentance, followed, inevitably, by failure. But why not take any excuse to think about how you want to be better, how you want to make the world better? Plus, there's a twisted joy in making promises to yourself that everybody, including you, expects you to break. It's low-stakes, like cheating on yourself with an imagined better version of you.
Eventually the grace period of the new year ends, and the real work of being the person you want to be picks up wherever you left off. The uncooperative aspects of our personalities don't go gently. And so I'm sharing something my husband often repeats to me: Success in life is not about figuring out what you are good at, but rather, figuring out what you are bad at, and avoiding it.
If that practical advice doesn't suit you, I offer another counterintuitive bit of wisdom: Seek out people you find intimidating. Sometimes I meet women who make my brain quake with a combination of respect and envy. Women with the kind of originality that immediately makes me hate my haircut, question my sense of humor, or want to be smarter about foreign policy. Working on the Cut, I'm lucky to meet and learn about so many women like this — women who make me want to be worthy of their company.
Katja Blichfeld, the Cut's cover woman this month, is one of those people. High Maintenance, the series she and Ben Sinclair created about a weed dealer and the New Yorkers he serves, begins its second season on HBO this month. It's been a cultural beacon for me in the last several years, as a show that loves human quirks and weird flaws. It stands out for the empathy it extends its characters, the nuance of the world it creates, the way the stories connect and unfold through the subtlest details. I met Blichfeld and Sinclair in 2014, when the show consisted of 13 short webisodes with big ambition. Right away they dazzled me with a mix of creative conviction, warmth, curiosity, and ingenuity — the same qualities that make watching High Maintenance such a pleasure. Much has happened in the nearly four years since then, as Emily Gould discovered when she met Blichfeld this fall. I won't spoil it for you, but look for that story later this month.
In the meantime, let's all enjoy these few, delusional days of eating healthy, working out, and meditating so hard.
Love,
Stella
On Katja
:

Calvin Klein 205W39NYC

Trench with Detachable Sleeve, $3,900 at

Calvin Klein

.
Production Credits
:




Photos by

Lia Clay


Styled by

Rebecca Ramsey


Interviewed by

Emily Gould


Produced by

Biel Parklee


Hair by

Sean Bennett


Makeup by

Yuui Vision


Set Design by

Marcs Goldberg


Photography Assistant:

Cloe Young

. Fashion Assistant:

Indya Brown


Special Thanks to

Industria Studios