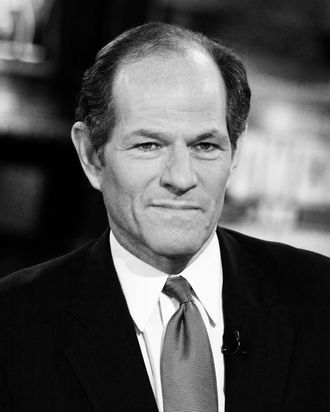 Eliot Spitzer.
Photo: Cindy Ord/Getty Images
A decade after the prostitution scandal that brought his time as New York governor to an abrupt end (were we ever so young?) and a couple of years after he was accused of assault, Eliot Spitzer appears to be back and as classy as ever. Businessman Jamie Antolini tells the New York Post that Spitzer threatened to stab him in the penis when an argument between the two escalated.
The alleged incident occurred on January 2 at the Upper East Side restaurant Avra Madison Estiatorio. Antolini has apparently made a habit of bringing up Spitzer's nemesis, Ken Langone, whenever the former governor is within earshot. When Spitzer walked by his table that night, Antolini says he mentioned to his dining companions that "Ken Langone should have been president" and "Ken Langone is a great guy."
Antolini says Spitzer fell for the provocation then "leaned into me, got right in my face, screaming — yelling — 'I don't know who the f–k you think you are! I'll f–king have you killed!'" Spitzer then reportedly walked away only to return to scream, "I'll get a f–king knife and stab you right in your f–king c–k!"
A spokesperson for Spitzer told the Post that he was out celebrating his mother's 90th birthday and while "an argument ensued … at no time did he make any threats." Especially not the very specific one about stabbing a stranger in an extremely painful and private place.