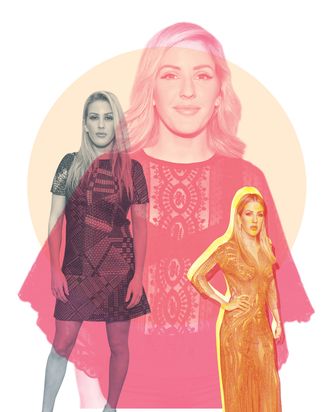 Photo-Illustration: Stevie Remsberg; Photos: Getty Images
Ellie Goulding might be the only Grammy-nominated singer who has invited fans to join her on long runs. The British indie-pop singer is now taking a break from half-marathons, focusing on her wellness routine as a face and investor in CORE water while recording new music. Just before hosting a Barry's Bootcamp class in New York City, for winners of a contest, Goulding spoke with us about making green smoothies taste good, what it's like dating a carnivore (when she's a vegetarian), and why it's better to compete against yourself.
How I start my morning: My morning routine will be some kind of workout, whether it's Barry's, yoga, or even a run outside. I go between New York and London so there's always interesting runs to do. At the moment I'm loving running to Goldie's "I Adore You." I'm such a big fan of old-school U.K. drum and bass. I usually use the Apple/Nike watch to track my runs.
What wellness means to me: I'm all about balance — in my life, my fitness regime, and my diet. I'm of the mind-set that you can take care of yourself without going too overboard. While I definitely care about what I put in my body for instance, I do really love sweet things.
What I eat for breakfast: I'm not really a massive breakfast person but if I do it, I'll go for something like fruit or a smoothie. I'll shove a bunch of things in a NutriBullet — kale, cucumber, water. I try and have a smoothie every day, it's really filling with protein powder. I love using Vega, because it is vegan and tastes fantastic, and maca powder. Spirulina doesn't taste great but can easily be masked by a banana and some almond butter.
I try to get my greens in very quickly, all in one go. As soon as I got into making smoothies I realized how many different things you could add to boost them. Being vegetarian opens you up to so much more, as you think more about wellness and better ways to get your protein other than meat.
Occasionally, I'll have a bit of rye bread toast. This morning I had toast because I was recovering from a massive cold. I've gone from having a very sweet tooth to liking savory things. I do plain toast with a little butter. You can get vegan butters, you can get sunflower butters, soya spreads — but butter is one of my weaknesses. I do make a flask of tea. I'm obsessed with green and detox teas.
In the studio, I'll have juices occasionally in the morning and try to stay healthy because you're pretty much sitting down all day. The sugar content in juice is high, but I still think it is important to drink juices [rather than] eating refined sugar. The goodness is worth the sugar bloat!
How I sweat: There is a brilliant online yoga school called YogaGlo. For a monthly subscription you can take any class and you can choose the difficulty level and the duration. It's perfect for someone always on the move.
Barry's is so good. Especially if you start on the treadmill you have no choice but to get right into it. Your heart rate is up within a couple of minutes. Once your heart rate is up, it's natural to be in the zone. I think if your heart rate is up, it's connected to your brain in an animalistic sense — your brain is telling you that you're ready to fight, you're ready to go.
How has wellness changed for me: I used to be harder on myself. As I've gotten more secure in my own skin and become better educated on wellness, my lifestyle has gradually changed. I'll still enjoy the occasional cocktail, but I'll reach for a bottle of CORE water. I'm definitely more confident than ever now, which is an amazing feeling.
I find it much better for my mental well-being to be my own competition. I did races, 10Ks, half-marathons, and had quite fast times. I used to go down to the running tracks and race against people, but I don't enjoy it. Some people are quite competitive, which is great if that's in you — fantastic.
Personally, I like to beat myself and I find it a lot more rewarding and a bit more calming. I'm on my own journey. I feel very lucky to have this natural motivation where I get up in the morning and I know I'll feel so much better if I do a workout than compared to if I don't. I don't see working out as a luxury, I see it as something that should be integral to everyone's everyday life. To work out is being respectful of your body. It's a way of paying back and saying thank you for keeping me alive and for giving me such an amazing opportunity to live and breathe.
On veganism: I'm trying to be a full vegan, I've been a vegetarian for six years. I was a vegetarian all the way through my teens as well. I'll definitely never eat fish or meat again.
In being vegetarian, I realized I could be an athlete and not need meat for the protein. There's actually more protein in greens than meat. Once I fully understood where meat came from … I found that concept quite hard to live with. If you don't need meat to survive, I don't see why you have to have it. Also it makes you feel tired, it makes you feel lethargic, and your body finds it hard to process so much meat all the time.
My boyfriend is a huge carnivore. He comes from a farmer background but he stopped eating meat for a month. He said you really do feel better. Unfortunately, I haven't persuaded him to stay a vegetarian but he's very appreciative of it. We often go to a lot of veggie places. Tonight, I think we're going for an Impossible burger.
How I eat when I'm alone:  I try to eat as healthy as possible when I can. When I am with my boyfriend, I love going for dinner with him to veggie restaurants or cooking him big hearty food like pasta. Sometimes we go to a meat restaurant and I end up just eating fries and a salad.
How I pull myself through hard times: There needs to be more awareness around how good fitness is for your mental health. You do feel better after a workout, unless you were super hungover or hadn't had any sleep. If you haven't had any sleep, choose sleep over workout. If you have and you're still like Oh I can't be bothered, which is a very English phrase, just always think about how you're going to feel after. Go back to the time you last did a workout. That feeling of achievement, you should always keep in your head.
This interview has been edited and condensed.