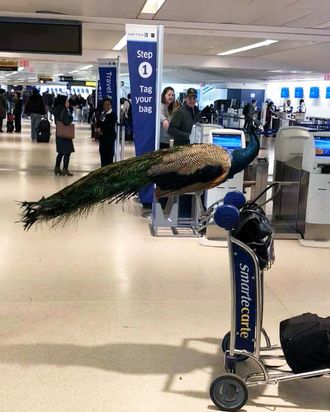 The peacock in question.
Photo: Courtesy of Facebook/thejetsettv
Flying has been getting increasingly less pleasant over the years: seats are getting smaller, you have to pay extra for food and checking luggage, and you can't even bring your enormous, emotional-support peacock onboard without someone making a fuss.
The latter is what happened to a woman spotted trying — and failing — to get her peacock onto a United Airlines flight departing from Newark airport. She reportedly even bought it a ticket.
"This animal did not meet guidelines for a number of reasons, including its weight and size," United said in a statement to Fox. "We explained this to the customers on three separate occasions before they arrived at the airport." Indeed, other airlines like Delta have put new, stricter rules in place about companion animals.
The emotional-support pig kicked off a flight a few years ago for being "disruptive" has yet to comment publicly, but we assume he stands in solidarity with the peacock.