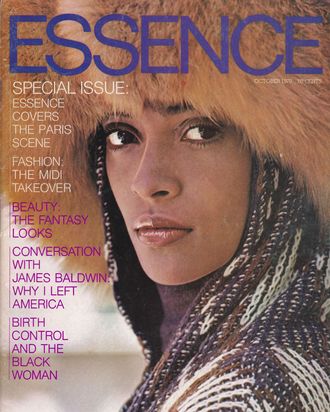 When I was in grade school, my mother couldn't afford to give me many privileges. But once a year the penny-pinching went entirely out the window: Picture Day. No matter what, my mom would take me down our block in Harlem to the salon, where I'd have my annual $15 wash-and-set the night before. I looked forward to it with the kind of anticipation usually reserved for the arrival of the ice-cream truck — because sitting under the dryer, I got to comb through the pages of Essence.
For most of my childhood and into early adolescence, with ears reddened from the dryer's heat, I devoured the covers of Tyra Banks, Queen Latifah, Halle Berry, and Alek Wek. I digested every detail of Erykah Badu's bohemian look. As the stylist tugged at my rollers, I would fantasize about someday being styled on one of the covers, with coiffures just like Angela Bassett's or Toni Braxton's short cut.
As I got older, I would read the kinds of articles in Essence that you might find in Cosmo and Seventeen, but with a crucial difference: While those publications never put Black women in the center of their stories, Essence did. Articles about respect in the workplace, eating disorders, depression, even quizzes to figure out whether your crush liked you — they were all for me, by women like me. And thanks to the magazine, we saw the first Black First Lady of the United States of America honored, as the impressive and impassioned woman she is, over and over again in its pages. I stopped subscribing in my 20s, but in the Trump era, I've returned to Essence — because a publication devoted to showcasing Black women is more important than ever. Just this last year, the May 2017 issue was devoted to the views and opinions of more than 100 women of color who are actively involved in fighting for the lives, liberation, and personhood of Black women.
Essence has been around for almost 50 years, and while media specifically for Black people has existed for generations, outright ownership of those publications has been difficult to maintain. In 2005, after 34 years of black ownership, the parent company of Essence, Essence Communications, Inc., sold the company to Time Inc. — a move that was highly scrutinized, but accepted as necessary to stay afloat. And now, Essence has been acquired by the Black-owned Essence Ventures LLC (helmed by Richelieu Dennis of Shea Moisture fame). This makes me proud because Essence is a distinctly Black publication.
Since those Picture Days in Harlem, I've learned to style my own hair. But I've returned to Essence as a subscriber and plan on supporting more creative forces committed to the cause of empowering Black women. Who knows — maybe someday, my own daughter will head down to the salon and flip through the pages of Essence.