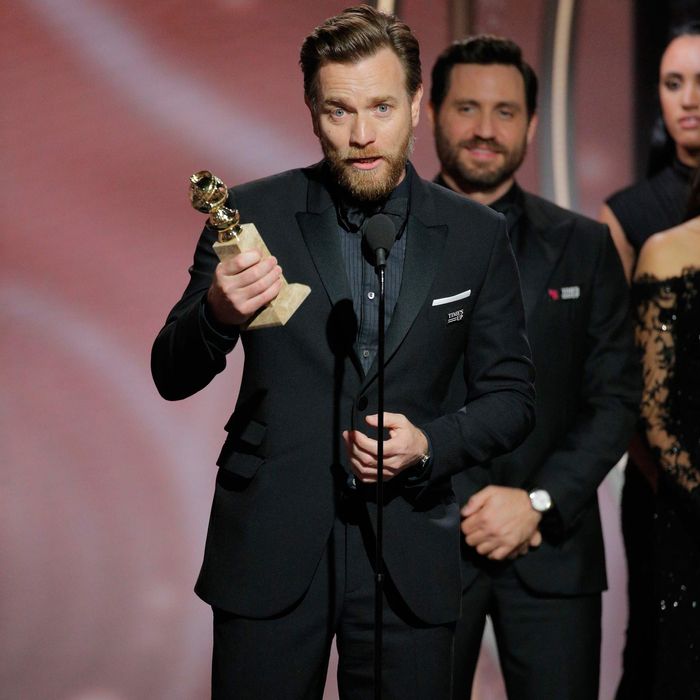 Ewan McGregor at the Golden Globes.
Photo: Paul Drinkwater/NBCUniversal via Getty Images
In life, there comes a moment when we all must ask ourselves, "What will we do if we have to publicly accept an award shortly after splitting with our spouse of more than two decades and taking up with a co-worker?" At the Golden Globes on Sunday night, actor Ewan McGregor found himself in that very position — and opted to thank both his estranged wife and girlfriend in his speech.
McGregor revealed in October he had split from his wife of 22 years, French production designer Eve Mavrakis. His announcement came after British tabloids published photos of him kissing his Fargo co-star Mary Elizabeth Winstead (who Lainey Gossip notes also divorced her husband last year) in London. McGregor and Winstead's relationship appears to be ongoing, as they've continually been spotted out together since then.
So when he won Best Actor in a Limited Series for his role in Fargo at the Golden Globes on Sunday night, McGregor thanked both Mavrakis and Winstead in his speech.
"I want to take a moment to just say thank you to Eve who always stood by me for 22 years," he said before going on to thank the four children they share. Later, when thanking his Fargo castmates, McGregor added, "and there would have been no Ray without Mary Elizabeth Winstead."
Touching and awkward!