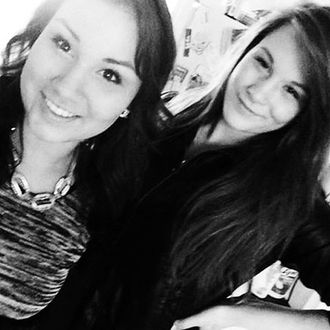 The photo of Cheyenne Antoine and Brittney Gargol.
Photo: Courtesy of Facebook
Two years ago, 18-year-old Brittney Gargol was found dead on the side of the road in Saskatoon, Canada. On Monday, her best friend, 21-year-old Cheyenne Antoine, pleaded guilty to killing her — and police say that a selfie of the two of them posted to Facebook was a key part of the investigation.
Per the CBC, it all centers on a belt found lying near Gargol's body that is believed to be the murder weapon. A few hours before Gargol was found, Antoine had posted a selfie of the two of them on Facebook — and police noticed that, visible in the bottom left-hand corner of the photo, Antoine was wearing the same belt found at the crime scene.
The night of Gargol's death, the pair were out drinking together. They then got in an argument, though Antoine says she doesn't remember strangling her best friend. Another friend told police that, when drunk, Antoine had confessed to killing Gargol.
Antoine was first charged with second-degree murder, though she pleaded guilty to manslaughter and will serve seven years in prison.