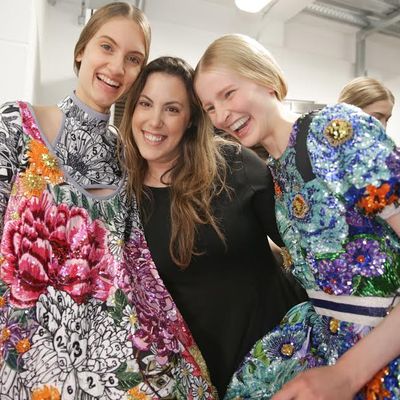 Designer Mary Katrantzou, pictured at center.
Photo: Romain Reglade
London-based designer Mary Katrantzou is celebrated for her bold, graphic prints, but as it turns out, fashion wasn't originally part of her game plan. "Growing up in Greece, fashion was never in the picture," Katrantzou remembers. "I was creative as a child but my work was disciplined, linear, controlled." She studied architecture at the Rhode Island School of Design, and then a semester abroad at the London art school Central Saint Martin's changed her life. "I took a textile design course and loved the freedom and the opportunity it gave me to discover and channel my talent," she says. She transferred to Central Saint Martin's six months later and ultimately received a master's of arts in fashion, studying under the legendary professor Louise Wilson, who also mentored the likes of Stella McCartney and Alexander McQueen. "I was intrigued by the idea of designing in 3-D and around a woman's body," Katrantzou says. Under Wilson's tutelage, she decided to start her own brand.
Katrantzou has since become a full-fledged force on the London Fashion Week circuit, known for bold, trompe l'oeil prints and an eye for color. She's won numerous prizes (including the coveted New Establishment prize at the British Fashion Awards, in 2016) and dressed such names as Michelle Obama, Sarah Jessica Parker, and Zendaya. Her countless brand collaborations have included partnerships with Adidas, Topshop, and Colette (a T-shirt collection released just before the store's closing).
Nostalgia is a powerful force for Katrantzou. When she's back home in Athens, she likes to revisit her early artistic projects and channel them into new designs. Recently, for spring 2018, she created textured dressed inspired by friendship bracelets that Katrantzou braided with her friends as a teen in Greece. Katrantzou enlisted help from the charitable organization Women for Women and its operation in Kosovo to fashion the prototypes.
This year Katrantzou is celebrating her label's tenth anniversary and her first solo exhibition at the Dallas Contemporary museum, which features more than 180 pieces from her designer archive. On the eve of the museum show's opening last Sunday, the Cut asked Katrantzou for her take on everything from the best no-chip nail polish to Big Little Lies and the Time's Up movement. Read on for the full Q&A.
How do you thank people for a gift? 
A handwritten personal note or a text with an abundance of emojis!
Color or no color on your nails?
I'm adventurous with nail colors because I'm always in black and I'm quite animated with my hands when I talk, so I need them to be well groomed. I love the brand Dazzle Dry. It's vegan and non-toxic and perfect for traveling when I don't have time to do my nails. You can apply it easily yourself and it dries super fast.
What's the one coffee-table book you'd be most proud to display? 
I currently have only one special one on my table: Catwalking: The Life and Work of Chris Moore. Produced in collaboration with my friend and incredible fashion writer Alex Fury, it is a visually compelling history of modern fashion. He sent it to me as a Christmas gift. I have so much respect for [photographer] Chris Moore and I'm so honored he takes the pictures of my shows. I always go to him and look at the shots through his lens before a show starts and he teaches me angles and perspective and light.
Heels or flats? 
Midi heels! I'm waiting for my order of our S/S 18 Jelly shoes in silver. I loved them as a kid and clearly, I still do.
What would you never wear? 
Dressing should feel empowering and bring out the best in every woman, so I would never wear anything that makes me feel uncomfortable.
Favorite song on your playlist right now? 
Frédéric Sanchez does the music to my shows and I love going through the list of new discoveries that he sends me every season. I've been listening to "Ostium Hirundo" by Frédéric Sanchez a lot recently. It's from the film The Swallow by Mano Khalil. When I was in New York last month I kept listening to Frank Ocean's "Futura Free" on repeat.
No make-up make-up, or actually no make-up?
I've always had the same routine for years. Rodin's face Olio Lusso face oil, Estée Lauder's Double Wear foundation, Clé De Peau concealer and a M.A.C blush. That's all I have on, and it lasts me all day.
What's the secret to throwing a good party? 
An interesting mix of people, good music, and Paperless Post invites — I always pick one from our collaboration which makes it as personalized as it gets! Don't be afraid to invite the circus, old friends, new friends, and mix generations, occupations, and cultural backgrounds. I love bringing people together and I'm even happier when my friends become friends too.
What's one way your taste has changed since you were a teen and one way it's stayed the same?
I've worn black since I was a teenager and continue to wear this as my daily uniform. Living away from Greece has made me appreciate my heritage more. Greek music, the cultural history, the food, the architecture. I'm more drawn to it now.
What's your guilty pleasure?
1stdibs.com shopping for mid-century furniture as we are renovating our house. I found a great Milo Baughman set of dining chairs that I have my eye on. Greek iced coffees are a guilty pleasure too for late nights at the studio!
What are your favorite accounts to follow on Instagram?  
@womenforwomen for their incredible work empowering marginalized women to become independent and achieve beyond the constraints of their challenging environments. @oprah for always inspiring and empowering people to be their best self, live a better life, and support others to achieve. @thetot, co-founded by Nasiba Adilova with a drive to produce a one-stop destination for women to share their experiences and find non-toxic children's products for the environmentally conscious and stylish mother. @alexanderfury for his rich fashion history knowledge and most eloquent way with words.
Last show you binge-watched? 
Big Little Lies and Black Mirror. Stories of domestic abuse are so relevant to the conversation we are having right now and the bravery women showed in speaking their truth. The Time's Up movement is so important and Big Little Lies shed light on it with an incredible cast — mostly comprised of women of different generations. I find the solidarity actresses have shown so inspiring and it was great to watch their performances being acknowledged and celebrated at this year's Golden Globes. I also always look forward to the new season of Black Mirror, which offers a portrayal of modern society, particularly the potential consequences of new technologies. Episodes are set in an alternative present or the near future and it offers the viewer thought-provoking ideas to contemplate.
T-shirt?
I love our exclusive collection for Colette! Just before they closed their doors in December, we did a capsule collection of sequined T-shirts with all the characters of the Seven Dwarves. My favorite is Happy or Grumpy, depending on the day.
Flower?
Peonies and gardenias. Growing up we had gardenia trees in my home in Athens and I used to always have one gardenia next to my bed. I get all my blooms from FLOWERBX. They always have the freshest selection.
Chocolate maker?
Richart in France. They have the best recipes and their designs are so distinctive. A box of their assorted chocolates is visually stunning and their "burlwood vault" has seven drawers of chocolate — perfect for a gift complete with temperature and humidity gauges.
Perfume? 
Chloé Fleur de Parfum. The bottle is so beautifully classic too.
Sheets?
The White Company.
Lip balm? 
By Terry Hydra Éclat Daily Care Hydra-Comfort Aqua Balm. I love all of Terry de Gunzburg's range and this one is my favorite balm. It keeps your lips hydrated when travelling and I love the rose scent.
If you buy something through our links, New York may earn an affiliate commission.